Pasadena Showcase House of Design to Highlight Monterey Colonial
Design Trends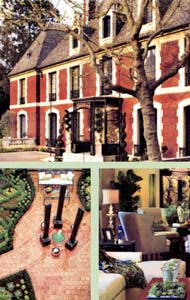 Dunn-Edwards is proud to -- once again -- be the exclusive paint sponsor for the 2013 Pasadena Showcase House of Design. This is the event's 49th year as the annual fundraiser for Pasadena Showcase House for the Arts (PSHA). Dunn-Edwards has been the paint sponsor for more than 46 years and, this year, welcomes another home into the Showcase collection.
As one of the oldest, largest and most successful house and garden tours in the country, Showcase will highlight the work of residential architect Roland E. Coate, Sr. at a 1941 residence located in Arcadia, California. Open April 21 through May 19, 2013, this historic home will be transformed and fully renovated into an extraordinary jewel by renowned designers from throughout Southern California.
Originally built for prominent furniture executive C. Lawrence Barker, of the former Southland furniture company, Barker Brothers, the estate is a Monterey Colonial residence that features a number of Colonial Revival subtypes, a mixture that the architect was known for in his attempts in creating a native "California Style." The estate is a two-story, 10,433-square-foot home that features several gardens, a tennis/basketball court, a swimming pool with spa, and a pool house set on 1.79 acres.


PSHA is a non-profit, all-volunteer organization in California whose members donate time and resources to the annual Pasadena Showcase House of Design. Founded in 1948, the PSHA adopted the Pasadena Showcase House of Design as its annual benefit in 1965. Event proceeds support local arts and music programs with gifts and grants, the annual Pasadena Showcase House Youth Concert, the Pasadena Showcase House Music Mobile, and the Pasadena Showcase House Instrumental Competition.
See past Showcase homes and color palettes using Perfect Palette® Colors
| | | |
| --- | --- | --- |
| DE6206 Desert Suede | DE5531 Dark Cavern | DE5796 Before the Storm |
| DE5386 Brown Wood | DE5097 Red Rock | DE6062 Tea Bag |
| DE5364 Coffee Cream | DE6171 Sand Dollar | DEA163 Rodeo |
| DEC787 Mythical Blue | DE6277 Pebble Walk | DEA155 Arabian Red |
| DE5744 Seaport | DE5500 Olive Hint | DE5820 Polished Silver |

2011: See the House
2011 Color Palette
| | | |
| --- | --- | --- |
| DE6213 Fine Grain | DEC728 Madera | DE5498 Calla Lily |
| DE5562 Olive Martini | DEW341 Swiss Coffee | DE5565 Crocodile Smile |
| DEA150 Scarlet Past | DEW380 White | DE6371 Black Jack |


2010: See the House
2010 Color Palette
| | | |
| --- | --- | --- |
| DEC771 Shaggy Barked | DEC723 Champagne | DE6385 Black Bean |
| DE6199 Pale Beach | DE5333 Burst of Gold | DE5803 Turbulent Sea |
| DE6193 Bamboo Screen | DEC792 Cape Cod Blue | DEC764 Inside Passage |
| DE6198 Cream Wave | DEW319 Damask | DE6170 Rice Bowl |
| DE6270 Antique Coin | DEC761 Cochise | DEC781 Sycamore Stand |
| | | |
| --- | --- | --- |
| DE6297 Patina Creek | DEC761 Cochise | DEC756 Weathered Brown |
| DEC771 Shaggy Barked | DE5117 Redwood City | DE5528 Watercress |
| DE6303 Sky Glass | DE6312 Dusty Dream | DE6335 Novelty Navy |
| DE5529 Stuffed Olive | DEW302 Romantic | DE6207 Egyptian Sand |
| DEC714 Friar Tuck | DEW380 White | DE5774 Thundercloud |


2008: See the House
2008 Color Palette
| | | |
| --- | --- | --- |
| DE6193 Bamboo Screen | DE5536 Dill Grass | DE6148 Antique Linen |
| DEC788 Dark Lagoon | DE5097 Red Rock | DE5502 Serpentine |
| DE5772 Blue Spruce | DE6036 Cloudy Gray | DE6111 S'mores |
| DE6151 Warm Butterscotch | DE5426 Mustard Seed | DE5460 18th Century Green |
| DEA194 Mulberry | DE5790 Atlantis | DE6192 Nomadic Taupe |
| | | |
| --- | --- | --- |
| DEC757 Rincon Cove | DEA187 Black | DEC741 Bone White |
| DE6234 Serene Thought | DE6197 Modern Ivory | DE6140 Brown Bear |
| DE6130 Wooded Acre | DE6235 Northgate Green | DE6311 Haze Blue |
| DEC751 Ash Gray | DEW383 Cool December | DE6278 Stone Creek |
| DE6205 Stucco Tan | DE6063 Black Walnut | DE6346 Silver Springs |
| | | |
| --- | --- | --- |
| DEA158 Northern Territory | DEW341 Swiss Coffee | DEC720 Cliff's View |
| DEW382 Faded Gray | DE6377 Boat Anchor | DE5882 Harbor Afternoon |
| DE6284 Graceful Green | DE5360 Wheatbread | DE5898 Prim Blue |
| DEA148 Sunken Ship | DE5359 Crossroads | DE6150 Gourmet Honey |
| DE6144 Graham Cracker | DEC772 Navajo White | DE6178 Boutique Beige |
| | | |
| --- | --- | --- |
| DE6150 Gourmet Honey | DEA173 Frond | DE5118 BBQ |
| DE5213 Seasonal Beige | DE5241 Sicilian Villa | DEC780 Tickled Crow |
| DE6157 Bisque Tan | DEC762 Milkweed | DE6135 Verona Beach |
| DEW317 Day Lily | DEC736 Flaxseed | DEC761 Cochise |
| DE5359 Crossroads | DE5878 Bachelor Blue | DE6249 Trinity Islands |
To order your tickets and find out more about Pasadena Showcase House of Design, visit http://www.pasadenashowcase.org