Dwell on Design 2014: A Celebration of Modern Design
Painting Green
Dwell on Design, America's largest design show, returned to the Los Angeles Convention Center June 20- 22, 2014. Curated by the editors of Dwell magazine, this exciting three-day celebration of modern design, with 30,000 annual attendees, focused on going beyond the urban dwelling, seeking a new definition of modern. "A lot of people say 'modern' and what it conjures up is a certain style," says Michela O'Connor Abrams, president and CEO of Dwell Media. "At Dwell, modern is a philosophy of the way one lives." That philosophy comes alive in each of the 400 exhibitors and 2,000-plus innovative, sustainable and visually appealing products on display.
With an expanded outdoor area with an emphasis on the California drought, a resurgence of luxury design, bold neon color, and many other fascinating, cutting-edge creations, here are our favorite trends and exhibits at this year's Dwell on Design.

Paper Punk: Urban Fold
COLLABORATION
One popular trend was "collaborative" exhibitions, where visitors were encouraged to interact with the display. Paper punk, an innovative paper-based building toy that includes 2D flat shapes that transform into bold 3D geometric sculptures, had visitors help create a paper metropolis that grew and changed throughout the weekend. The Woodbury School of Architecture booth offered visitors a chance to sign and send custom, screen-printed postcards, while Lille Huset displayed a line of doll houses that encouraged children to decorate and construct together. These exhibits also focused on the potential for increased customization, offering experiences completely attuned to the individual consumer.

Woodbury School of Architecture Postcards


Lille Huset

LUXURY
This year's expo saw the return to luxury and glamour, with modern design still in full focus but a greater emphasis on luxurious finishes and gleaming metallics. This was seen in everything from new appliances to the burnished pieces shown by Organic Modernism, which displayed a combination of both glamour and comfort. The Jimmie Martin booth, a luxury brand based in London, displayed customized antique and reproduction furniture, with each piece signed and finished with hand-painted artwork. Lacava's bath furnishings and fixtures display was also rich and lavish, with polished surfaces and spirited color.


Jimmie Martin: A Collaboration with Charco Design & Build, Inc.


Organic Modernism


Lacava
DWELL OUTDOOR
Smack in the center of the expo was Dwell Outdoor, a lush, green oasis that featureed thousands of plants and trees; Loll Designs Beer Garden; and several full-sized prefab homes outfitted in the latest solar power, water-saving fixtures and Earth-friendly home decor and furniture. The fully constructed WheelHaus prefab home gave visitors a chance to tour an affordable modular living space using sustainable materials, while the company Cube Depot, in collaboration with the architect firm AB design studio, displayed ME:OU, the modular expandable office.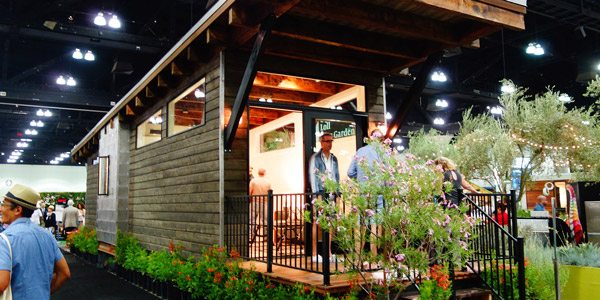 WheelHaus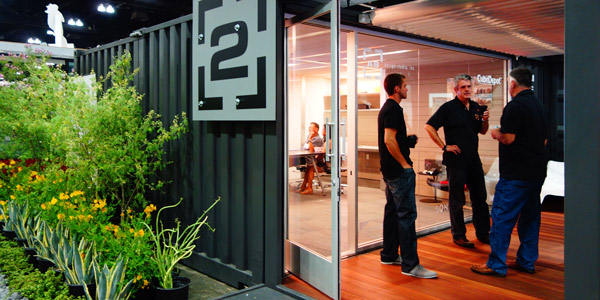 Cube Depot


Loll Designs Beer Garden

BOLD COLOR
Bold colors dominated Dwell on Design this year, from small accents, to large and dramatic displays. The Sunbrella booth showcased the company's Icon collection of fabrics, which is an update to the vintage colors and patterns from the company's 1960s and '70s lines. Neo-Metro's display of bathroom appliances stood out with its assortment of colored resin sinks, each with a deep ambient glow. The Koncept booth featured the colorful, award-winning Z-Bar Minis, which are designed for smaller desks and workspaces. Even the keynote speaker, Stephen Burks, featured bright, neon colors in his Man Made display, which included works of fashion, industrial design and art.


Sunbrella Icon Collection


Neo-Metro


Dunn-Edwards Paints®

For more information on the exhibits, speakers, tours and seminars Dwell on Design, visit www.dwellondesign.com
All Photography by Grace Lennon except Dunn-Edwards Paints® Booth image, photo by Dina Torres.