Winter 2013 California Gift Show
Design Trends
The LA Gift and Home Market Week held its semi-annual event in Los Angeles, showcasing a comprehensive line of design resources for the design trade. From January 23-28, the event provided numerous exhibitions spanning both the permanent spaces at the L.A. Mart and temporary exhibitions of the California Gift Show held at the Los Angeles Convention Center.
As the first edition under Urban Expositions management, California Gift Show welcomed an expanded exhibitor base, including established industry leaders, emerging newcomers and two new product categories custom-tailored to the Southern California lifestyle – Boardwalk and Outdoor Living. "With more than 22 million people living in Southern California alone, there's a vibrant, underserved retail audience right at the Show's doorstep," explains Doug Miller, president, Urban Expositions. "Since taking over the reins of the show in August, we've focused tremendous effort on rebuilding this show and working to create a whole new buying experience for these retailers."
These new additions joined 7 other product categories including Design LA, Handcrafted, Gifts and Personal Style including Spa, World Style, Jewelry Cash & Carry and Vintage. With all the new products, colors, and patterns at the show, let the buying begin!
Give-Back Brands: ROOZT
Studies show 85% of Millennials choose to buy from companies with a cause. And with over $400 billion in discretionary income, companies are creating cause-integrated products and brands to gain a foothold in this hot trend. ROOZT, a company founded on an e-commerce platform, provides an online shopping forum for shoppers seeking companies that give back in a myriad of ways. All are socially-conscious brands, small and medium sized companies, that are seeking an audience of like-minded consumers.
Many of these companies find it difficult to open store-fronts on their own, so ROOZT provides the venue for these companies to gain an audience. Brent Freeman, co-founder and CEO of ROOZT, explains, "Social consciousness is part of the Millennial DNA; we've been brought up hearing all these messages of doing more, being sustainable, helping others, etc. So ROOZT is a place for these hip and fun products to gain an audience. In a sense, we want to bring sexy back to giving back." Well said!
Give-Back Brands: Fresco Fabrics
Owners Annie Castleberry and Andie Smith started Fresco Fabrics three years ago after a trip to Guatamala. Long-time collectors of Guatamalan textiles, watching the Guatamalan artisans weave their richly colored textiles, they knew designers in North America would love to use these wovens within their designs.
The textile designs are adapted from their Mayan ancestors and infused with regional color schemes and motifs. Unlike any other textiles in the world, these textiles are still worn daily by the Guatamalan people. And the give-back? With the purchase of these textiles, Fresco Fabrics is providing a new source of income to these villages, providing a lifeline out of proverty and into a flourishing trade business.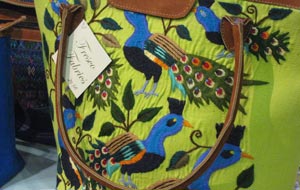 Bejeweled Color
Color is playing out in a variety of ways and splashes of vibrant hues provided a welcome introduction to the spring lines. As Rio de Janiero, Brazil is heating up as the "it" spot to be in 2016 for the Olympics, bright hues are making a bigger play into all areas of design. We also started to see spots of the 2013 Pantone Color of the Year Emerald playing.
Color and scent combine into a fragrant, lush and fresh atmosphere. Jonathan Adler is expanding his home fragrance collection into bath and body with creations of soaps, trays and more fragrance options in his candle lines.
The rich colors of orange, midnight blue, ocean blue, marigold yellow and citrus green, combined with clever scent names such as Fig, Tomato, Pepper, Earl Gray and Sugar and luxurious scents all combine to bring a bold freshness to this spring line.
Fine Lines Company Fine Lines Company, a leader in the gift, home decor and fashion industry, is always a great place to see the latest in trending wares. Matthew Katzenson, representative for Fine Lines, walked me through the showroom, showcasing the latest displays from Rowallan, Homart, Michael Aram, and ROOST, to name a few.
Rowallan showcased its gorgeous line of handbags, wallets and accessories in a variety of floral hues. And it's newest line highlights colorblocking in royal, saddle brown and crisp white in a new fabric weave called vegan leather. Blending sophistication and function with a Scottish sensibility, this company was featured on Oprah's Favorite Things 2012 with the introduction of their DEDE Jewelry Trunk. How chic!
English Re-invented
With English television shows such as Downton Abby gaining an ever wider following in North America, designs have followed. This spring we see more wickers, linen textures, mosses, and garden-based decor gracing the showroom floors.
Homart displays garden containers made of a new concrete-resin mix making these delightful touches to any decor. And spring-green mosses drape over their latest line of wicker and linens.
The palette is subdued throughout with a focus on texture. Willow is uptrending along with the afore-mentioned wicker and linen. Specialty finds include linen-wrapped vase collections and animals, organic forms and glazed stones.
Two's Company
Two's Company, a leader in the gift and home decor industry, displayed an array of products touching many trend points, from minerals to Brazil mania, we found a feast for the eyes.
Minerals Galore
Minerals, noted in our Trends 2013 report, and a stone to watch, has shown up in spring lines. Malachite, the inky emerald green stone, is noted as a hotpoint for minerals though an array of home decor products.
Tozai Home showcased a beautiful arrangement of wall prints and decor elements that will find its way into many retail shops. We also noted rugs and raw rock mineral formations that complement the line of minerals.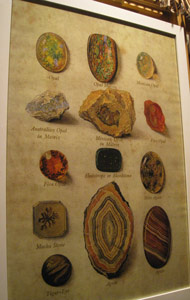 Origami
As organic shapes tilt and twist to new forms from season to season, many examples were found of the origami bird and other shapes taking hold throughout the show.
Warm Neutrals
In other lines, a lack of color was the story. Warm neutrals are uptrending and there's a focus on texture and wovens in design. Two's Company's Natura's line features global patterns, organic materials and handcrafted designs, all natural and stylish items that exude a serene attitude. Two's Company's Brand Manager Kirk Salaya states, "Neutrals such as browns and tinted whites are this season's reaction to the strong plays of color we've seen in past seasons. And textures such as jute, blockprints and wovens are key to this trend."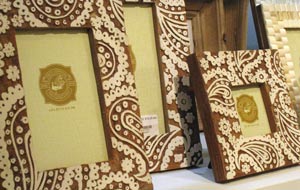 The Softer Side of Color
Though many products focused on the precious gems and brights in coloring, other products focused on the grayed- and tinted hints of color in their products. From furnishings to vase collections, here is a look at this springs softer hues.
Luxury in the Details
The luxury market is in full bloom again and designers like Michael Aram, represented by Fine Lines Company, introduced new collections with an upscale attitude. The new Aram collection showcases silver pieces with pearled edges alongside a touch of whimsy with the introduction of his spine chair. What a clever homage to the trend of transparency!
Animalia
Owls have overtaken the animal kingdom in all things designwise for the past couple of years and they are still abundant; however, other animals are trying to make a play as the front-runner in cuddlly creature decor. And, taxidermy is on the rise from commercial to residential design.
A Touch of Whimsy Decor finds its whimsical side in many of the showrooms. From techie treats to retro kitsch, designs are finding the fun again.
Just Beachy As a cure for the winter doldrums, the beach always seems to evoke sunny days ahead. Two's Company's Watercolors line features products that are relaxed and dreamy, natural and rustic.
Brazil is Buzzing
As mentioned earlier, with the upcoming 2016 summer Olympics, designs are heating up everywhere we look. Two's Company's Brasilia line features mix-n-match patterns in sizzling colors with a tropical vibe, creating a celebratory lifestyle.

The Full Tour

All Photography by Sara McLean