Window Wonderland: Holiday Window Displays 2014
Design Trends
It's beginning to look a lot like Christmas, especially at the malls and department stores across Los Angeles! Christmas window displays celebrate the festive season, while adding eye candy to your holiday shopping spree. Stores such as Dior, Top Shop and Ralph Lauren have unveiled elaborate displays filled with bright colors, beautiful landscapes and a plethora of holiday pizzazz.

THE GROVE
Check out these popular design trends for this holiday season!

CLASSIC CHRISTMAS
With holiday tradition as the primary inspiration, use of classic Christmas elements such as presents, garlands and ornaments have adorned this year's window displays. Oversized, sculptural ornaments seemingly float in mid-air in these fantastical displays, enhancing a sense of wonder and magic that surrounds Christmas. Light is also the key to this trend, with bold uses of color and gleaming metallic surfaces.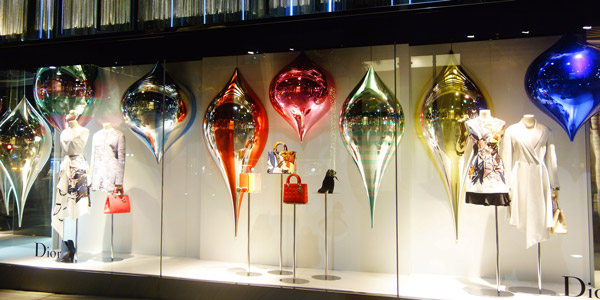 DIOR


TOPSHOP


RALPH LAUREN

ENCHANTED FOREST
Comprised of reclaimed wood elements, greenery, and rough and rugged textures, this trend is a contemporary take on the traditional winter season, set against a forest landscape of pine and evergreen trees, ice-blue skies and snow drifts. These displays not only feature natural, undoctored materials, but also incorporate video and light installations displaying visuals of snow-covered forests.

ANTHROPOLOGIE


CRATE & BARREL
CUTTING-EDGE DESIGN
With minimal color palettes and simplistic themes, these window displays demonstrate contemporary design elements and holiday basics stripped to the essentials. Use of gold and silver contrasts white backgrounds, while sharp geometric angles juxtapose soft textures of yarn and cotton. This trend is a fresh, modern take on the holidays.

MICHAEL KORS


ZARA


TOMMY BAHAMA
Happy Holidays from all of us at Dunn-Edwards!
Images by Grace Lennon