View from an Architect: Design Inspiration
Design Trends
Architectural designers are in constant search for inspiration. That inspiration can come from just about anywhere, from architectural blogs such as archdaily.com or inhabitat.com, to popular music and fashion. For most architects however, the process begins with data gathering, site analysis and listening to clients to determine the purpose of a design. It is further developed through a series of gradual modifications, explorations, investigations and experiments, producing architecture that is both practical and efficient, as well as visually interesting.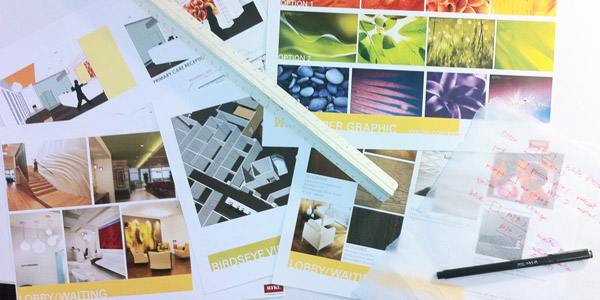 Inspiration imagery and initial design ideas for the Memorial Care Medical Center. Photo by Grace Lennon
I had the opportunity to speak with the talented Elizabeth Grube, an interior designer at RTKL, about her design process and inspiration for the Memorial Care Long Beach Urgent Care Center & Office, a converted Borders retail space that is now fully functional healthcare facility.
In terms of your personal design process, where do you look first for inspiration? What did you initially present to the client?

I first look at inspiration imagery through magazines or online blogs, but its not necessarily just interior design imagery. Fashion, travel, art and architecture all play a big role in how i get inspired. Just a simple shape, color combination or pattern can inspire me. The first presentation to the client included information on evidence-based design that would be applied to the space, showing how it will function. Then 3D renderings and material samples were provided to show how the space would look. Their first reaction to seeing the color palette and renderings was "Wow. That's not what I was expecting. I like it."


Memorial Care Lobby Space. Sketch courtesy of Elizabeth Grube
Memorial Care Lobby Space Architectural 3D Rendering. Rendering by Grace Lennon
Memorial Care Medical Center Material Sample Board courtesy of Elizabeth Grube
Walk us through the beginning stages of this project. How was RTKL chosen as the architect?
RTKL was chosen as the architect because of its expertise in healthcare design, environmental branding, creative process and also for its willingness to think outside the box. This project was very unique, and the client wanted a look that gave it a fresh, new look and presence in the community.

Did you work solo or with a team for the project?

I worked closely with a small team of architects and medical planners for this project. The function of the floor plan was extremely important and focused on improving staff efficiencies and enhancing the patient experience by incorporating industry research, evidence-based design, color psychology and intuitive wayfinding.


Memorial Care Lobby during construction. Photo courtesy of Elizabeth Grube
For this project, you designed a medical clinic within a former Borders retail space. How did this restriction affect your typical design process?
This project started out a bit different than others in that we had to convert a traditional retail layout into a fully functioning healthcare facility. Much like a retail brand might create a flagship store, we were given a unique opportunity to create a flagship space for the Memorial Care brand. Being an old Borders book store meant it was right in the center of the urban environment. The initiative of the RTKL and the Memorial Care team was to integrate healthcare into the community, changing the perception of healthcare to make it convenient and accessible.
Memorial Care Lobby today. Photo courtesy of Elizabeth Grube
What was your biggest challenge in designing this clinic? What was the most rewarding?
The biggest challenge of the project was to create a healthcare clinic that fit the retail environment. Our space and budget were tight, so we had to make this space as efficient as possible while spending money on only a few key design elements. The most rewarding part came when I visited the occupied space for the first time. When I saw visitors and family waiting comfortably, patients relaxed and confident, and staff bustling around their new space with ease, I knew the space we created was making a difference.