Trends in Action: Tiny House Movement
Painting Green
Growing in popularity over the last decade, tiny houses are popping up around the country as more people decide to downsize their lives. Often built on trailer platforms and typically sized between 100 and 300 square feet, these tiny homes allow for a simpler, less materialistic lifestyle with a significantly smaller carbon footprint. From college grads to retirees, the appeal of a miniature home spans the ages and boasts innovative, efficient and beautiful designs.
MiniMotive Tiny House; Photo courtesy of Macy Miler
Check out these impressive tiny houses that maximize both function and to see if this lifestyle could be right for you.
the TINY project; Photos Courtesy of Alex Lisefski
the TINY project
This serene tiny house in rural California is home to web designer Alek Lisefski; his girlfriend, Anjali; and their dog, Anya as part of their "tiny project: less house. more life." Built on an 8-by-20-foot trailer bed, the house features 10 windows and an all-glass door, allowing the interior to be more connected to the exterior surroundings, and boasts sustainable blue-stain, beetle-kill pondersa pine throughout the interior. Alek designed and built the house himself for about $30,000 and he is now selling construction plans so others can build a house of their own to the same specs. For more information regarding Alex's tiny house, visit http://tiny-project.com.
hOMe; Photos Courtesy of Andrew and Gabriella Morrison
hOMe Tiny House
Designed and built by Andrew and Gabriella Morrison, hOMe is a 221-square-foot tiny house mounted on a flat-deck trailer in Ashland, Oregon. Created to function off-grid, hOMe was built and furnished for $33,000 in just four months. With everything from a full-size kitchen with conventionally sized appliances, to a lofted master bedroom, to copious amounts of storage throughout, hOMe is a comfortable residence suited for full-time living. Its tall slanted ceilings and white walls give the narrow house the illusion of space, while horizontal glazing allows for natural daylight and views throughout.
The Elm; Photos Courtesy of Tumbleweed Tiny House Company
Tumbleweed Tiny House Company
One company at the heart of the movement is the Tumbleweed Tiny House Company, which not only teaches workshops all over the country on how to build tiny homes, but also manufactures and sells floor plans and already-built homes. The bungalow shown above, called The Elm, has 163 square feet of living space that incorporates plenty of storage and a sleeping loft. Prices for a tiny house start at less than $40,000, and are fully equipped with electricity and plumbing. For more information, visit http://www.tumbleweedhouses.com.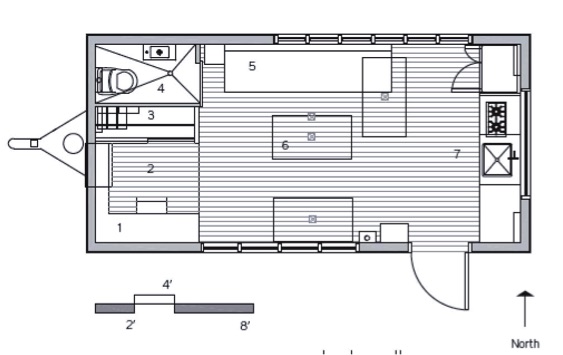 Minim House; Paul Burk Photography
Minim House
One of the more recent small homes to catch our eye is the clever space-maximizing design of the Minim House. This trailer-based mobile micro-home is capable of operating on- or off-grid and boasts comforts often associated with a larger home. Inside the 210-square-foot home, an open-plan interior offers a generous 10-foot-wide kitchen, a multi-functioning table, stools, a sofa with room for five people, a giant projector screen for entertainment, rollout bed (instead of a loft), office area, bathroom and bookcase that holds 150-plus books. The simple construction and standardized materials also allow for a crew of only two people to construct the house within just five days. Those interested can purchase the plans for the home via http://minimhomes.com.
Stills from Tiny: A Story About Living Small; Photos courtesy of SpeakThunder Films
TINY: A Story About Living Small
"TINY: A Story About Living Small" is a movie that follows one man's epic journey into tiny living and it has helped propel the tiny house lifestyle into national recognition. The film highlights the story of Christopher, a 30-year-old with no previous building experience, who along with his girlfriend, Merete, sets out to build a tiny house. Not only does the story center around Christopher, who also directed the film, but it provides context for the tiny house movement, including interviews with tiny house luminaries like Jay Shafer, Deek Diedricksen and Tammy Stroebel, as well as a number of "normal" people who have chosen to live tiny — such as 84-square-foot home-dweller Dee Williams. While there's talk about the aesthetic and design value of living small, the main reason most of the people give for their choice is financial independence. To watch a preview or learn more about the documentary, visit http://tiny-themovie.com.