The Making of (a new) Rome: Recent Works by Roman Architects
Artistic Inspiration
THE MAKING OF (A NEW) ROME exhibit, now showing at the Los Angeles Italian Cultural Institute, features a selection of more than 30 projects designed by architects working in Rome and built in the last decade. These works show the exciting diversity of contemporary design and construction created today in Rome, a city well known for its past. The projects are represented through panels containing photographs, drawings, and short explanatory texts, with some also being accompanied by scale models.
We had the opportunity to attend the opening gala on January 22, during which the Italian Cultural Institute hosted a panel discussion on Contemporary Architecture in Historic Urban Environments – The Case of Rome, moderated by Livio Sacchi, President of Rome's Association of Architect. The lively discussion was centered on the theme of Rome as a leading modern architectural city, and how the ingenuity and beauty of historic Roman architecture and urban development still influences architects today.
Arabella Rocca (Studio Alvisikirimoto)
The first to speak was Arabella Rocca of the Italian Architecture firm Studio Alvisikirimoto, presenting the design approach and then execution of their Podernuovo Winery. The winery, which is featured in THE MAKING OF (A NEW) ROME exhibit, is committed to lowering its carbon footprint and is an excellent example of Italian sustainable design. The cellar concrete wall utilizes geothermal power, keeping the wine storage space at the temperature of surrounding earth. Solar panels and exterior shading help reduce energy dependence, while the concrete's sienna-colored tone helps integrate into the landscape.

ARABELLA ROCCA AND MARRCO PETRESCHI AT THEIR EXHIBITED PROJECTS
PODERNUOVO WINERY
Marco Petreschi (Marco Petreschi Architetto)
Marco Petreschi, architect and professor at the Sapienza University of Rome, described his work as "never indifferent to the past, although careful to keep the right distance from it". He allows his contemporary design to be enriched by all that has gone before it, connecting to the past and Rome's remarkable historical heritage. He related his experience through descriptions of his projects and texts of past architectural critics and theorists, showcasing his most recent work, the St. Thomas the Apostle Parish Complex. He believes the future of Roman architecture is to blend and learn from the historic urban fabric, not reject it.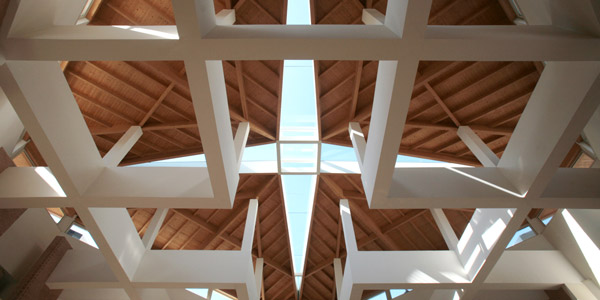 ST.THOMAS THE APOSTLE PARISH COMPLEX
Patrick Tighe (Patrick Tighe Architecture)
Patrick Tighe, a California based architect, innovator and educator, discussed his experience of being awarded the Rome Prize in Architecture from the American Academy in Rome, which allowed him to reside in Rome for eleven months. He was able to access the city's architectural landscape, using this opportunity to inform and influence his own design approach. His latest installation, "Out of Memory," exhibited in 2011 at the SCI-Arc gallery, was the output of one of his most inspired observations of the Baroque Roman architecture of San Carlo alle Quattro Fontane. The undulating surfaces of the interior, and the alternating concave and convex surfaces of the façade, parallel his design for the installation.
OUT OF MEMORY EXHIBIT-PHOTO COURTESY OF PATRICK TIGHE
SAN CARLO ALLE QUATTRO FONTANE-PHOTO TAKEN BY GRACE LENNON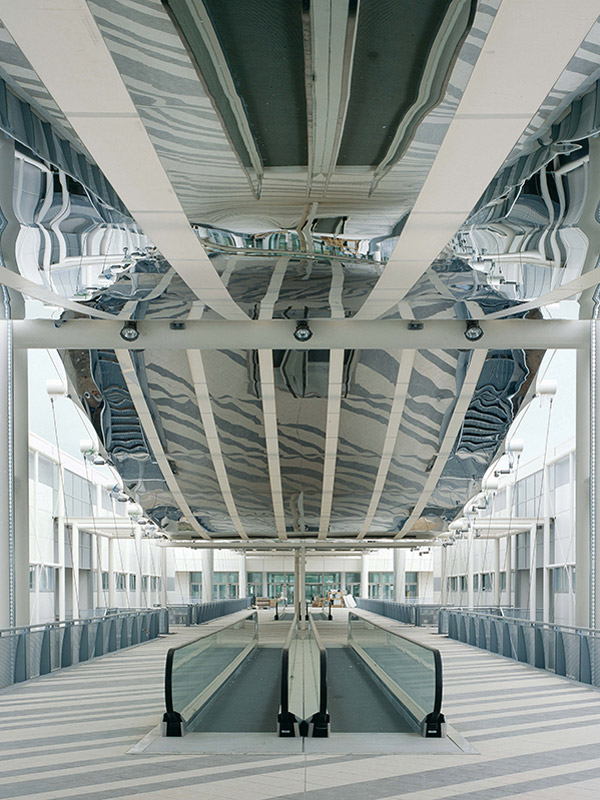 NEW TRADE FAIR COMPLEX
Paulette Singley (Woodbury School of Architecture)
Paulette Singley, Director for Rome Center for Architecture and Culture and Professor at Woodbury School of Architecture, discussed the differences and similarities between Rome and Los Angeles, and how both cities can gain knowledge from each other's strengths and weaknesses. L.A. is young and forward-looking, while Rome's is known for architectural landmarks and layers of history. L.A. has a larger periphery, while in Rome you can walk within its urban core. Paulette emphasized that these two cities can engage and grow together, both architecturally and culturally.

For more information and schedule a visit to THE MAKING OF (A NEW) ROME exhibit, please visit http://www.iiclosangeles.esteri.it/IIC_Losangeles

All photos courtesy of IIC unless noted above.