The LA Arts District: An Industrial Landscape Reborn
Artistic Inspiration
The Arts District in Los Angeles has experienced a cultural rebirth. Like the surrounding downtown, it was once a purely industrial area, but is now one of the hottest spots in Los Angeles. Occupying the eastern side of Downtown Los Angeles, it's filled with factories, warehouses and railroad buildings where artists have worked (and lived illegally) since the 1960s. This changed in 1981 when the City of Los Angeles passed the "Artist in Residence" or "AIR" ordinance, allowing residential use of formerly industrial buildings, and signaling the official boom of the area.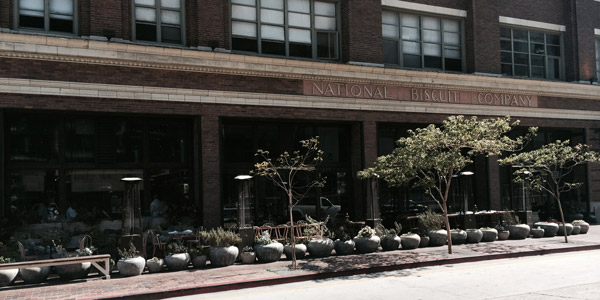 Today, must-visit restaurants like Bestia and Church and State sit alongside working warehouse operators. Galleries, studios, coffee shops and fashion boutiques are constantly popping up, but you still have to go in search of them; for this reason it's an area best discovered by bicycle. Many parts of the neighborhood remain underdeveloped, reminiscent of the now-gentrified Bushwick in New York's Brooklyn a decade ago.

The Arts District has historically been a place where artists, filmmakers, designers and creatives find haven. The artists Paul McCarthy, George Herms and Shepard Fairey all worked here early in their careers – Fairey's mark is still evident in his works on exterior walls throughout the streets. Creativity and craftsmanship are evident everywhere you turn – and there is no shortage of galleries fostering the talents of new artists. McCarthy himself returned to the Arts District and opened The Box (www.theboxla.com) gallery to expose and celebrate these artists to the community.
Cirrus Gallery (www.cirrusgallery.com) has been a fixture of the Arts District since 1979, pre-visioning the art scene that was soon to explode. It functions as a unique institution, a combination of print workshop, publishing house and art gallery with a focus on the work of Californian artists. At any time you can see painting, performance, sculpture, photography or technology-enhanced works in the space.

Art is not just hung in galleries; public art is a large part of both the district's history and future. The murals and street art are yet another symbol of the creative landscape – during an afternoon meandering the streets we saw one-of-a-kind murals by David Choe, Nekst and Fairey's Obey works.
It's not just murals decorating the exteriors. Installations like Geode Street Art are creating somewhat of a treasure hunt through the streets of the Arts District. Created by Paige Smith, who uses paper and resin in 3D to create 'geodes' in the city - sculptures that represent crystals, quartz and mineral foundations. Normally found in nature, they're fit into the holes of buildings and pipes.
For the latest in architectural design, head to SCI-Arc (www.sciarc.edu), the Southern California Institute of Architecture. The quarter-mile long structure – an old freight depot - was built in 1907 and converted in 2001 into the school. SCI-Arc is one of the country's few independent architecture schools, and holds exhibitions throughout the year. We viewed Helen Flood's Punk'd installation, a vivid piece that explores the visual effects produced when two-dimensional graphic patterns are made into three-dimensional constructions.

It's clear new generations of creatives from all fields are flocking to the area, and it's a place where architectural and design inspiration is present at every turn. If you're an Angeleno, or visiting Los Angeles, the Arts District is well worth a visit.
All images by Sarah Link