The City Through an Architect's Eyes: Architecture Tours L.A.
Design Trends
Architecture should speak of its time and place, but yearn for timelessness. -- Frank Gehry

Buildings stand as a city's silent storytellers. They personify influences, cultural movements and history written across their facades. To tour a city's architecture is the same as touring it's DNA. Architecture Tours L.A., owned and run by Laura Massino, provides captivating excursions throughout Los Angeles for the architecture tourist, unlocking the city's architectural gems, prominent neighborhoods, and hidden history. I had the opportunity to partake in Laura's tour of Frank Gehry, L.A.'s resident "starchitect," which includes a driving tour of Gehry's diverse structures across the city.

The tour began with Frank Gehry's famous Walt Disney Concert Hall, located in Downtown L.A. An iconic symbol of Los Angeles, the curving stainless-steel facade mirrors the electrifying movement of the city. Gehry designed the auditorium to provide both impeccable acoustics and a sense of intimacy, wrapping the audience around the orchestra.


Walt Disney Concert Hall, Los Angeles, CA (2003)
Next was the Gehry Residence in Santa Monica, where Gehry found a creative outlet in rebuilding his home. Converting a standard residence into a showplace for a radically new style, he took common elements of American homebuilding -- such as chain link fencing, corrugated aluminum and unfinished plywood -- and used them as expressive elements. The house attracted significant attention and paved the way for his more avant-garde designs.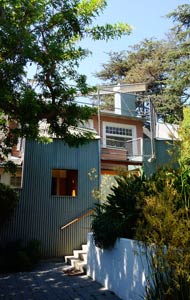 Gehry Residence, Santa Monica, CA (1971)

The tour proceeded to Venice, an area where Gehry was able to develop and master his eclectic style in 1970s and '80s. The Chiat/Day Building (now the Google Building), located along Main Street, is a collaboration between Gehry and sculptor Claes Oldenburg, playing upon the concept of scale and the dialogue between art and architecture. Venice also showcases the Spiller House, the Arnoldi Triplex, and the Edgemar Retail Complex, all of which exhibit his signature, deconstructive style.


Chiat/Day Building, Venice, CA (1991) Arnoldi Triplex, Venice, CA (1980)

Spiller House, Venice, CA (1980) Edgemar Retail Complex, Venice, CA (1984)


Continuing to Beverly Hills and West Hollywood, we stopped by Gehry and Miriam Wosk's collaborated Duplex, an artistic penthouse nested atop a pink apartment building, as well as the Gemini Art Studio, where Gehry stripped the exterior walls to reveal the structural elements beneath.



Gehry / Wosk Collaborated Duplex, Beverly Hills(1983) Gemini Studio, West Hollywood, CA (1975)

Our final stop on the tour was one of Gehry's first buildings, the Danziger Studio. Though restrained compared to his current work, this building indicates where Gehry's style originated before eventually progressing to a more sculptural architecture.



Danziger Studio, Hollywood, CA (1965)

For travelers and architectural enthusiasts, alike, taking an architectural tour of Los Angeles can offer a fascinating way to see the city. To schedule a tour and to find out more information about Architecture Tours L.A., please visit www.architecturetoursla.com.


Tour Map
All images by Grace Lennon
Tour Map by Architecture Tours LA