Surfaces, Las Vegas: Winter 2014 Show Trends Review
Design Trends
The International Surface Event -- one of the largest design events -- brought tile, stone and flooring manufacturers together in three shows: Surfaces, StonExpo/Marmomacc Americas and TileExpo. For four days, exhibitors showcased their latest products while many key events and seminars were held, providing trend and design discoveries.
Key Trend Highlights – Worldwide Design 2014-2015
Season to season, certain trends come to the forefront. For autumn/winter 2014-2015, Scarlet Opus, a leading interiors and home trend forecasting company based in the UK, led us on a journey through trends.
Historical References –- Based on European influences, heavy with Medieval to Baroque embellishment, we find ourselves looking way back in the annals of history for influence and inspiration. This trend titled "HISTORIC" is also influenced by the Dutch master painters and the time period dress, showing up on fashion runways and leading architecture today through details such as ruffles and pleats. The color palette creates a sense of history and grandeur with claret, gold metallics and deep jewel tone coloring.
| | | |
| --- | --- | --- |
| DE6178 Boutique Beige | DE6382 Formal Gray | DE6069 Bannister Brown |
| DE6153 Pyramid | DE5936 Graphite | DEA147 Garnet Evening |
DE5712 Stately Stems
PHOTOS ABOVE TAKEN BY SARA MCLEAN. WITH PERMISSION OF SCARLET OPUS.
Flooring trends application:
-Distressed patterns and tapestry-style rugs
-Marbleized and lace pattern rugs
-Hardwoods in rich, aged color and the parquet pattern continues to uptrend
-Tile designs include quatrefoil patterns in reference to Medieval times and cracked and scarred patterns
-Metallics, specifically copper and dark, antiqued gold
LOWER PHOTO: COURTESY MANNINGTON FLOORS
PHOTO COURTESY NOURISON RUGS
PHOTO OF DALTILE BOOTH
Rustic Simplicity –- Nature in all its glory in the inspiration for this trend. Called "NATURE", flora and fauna pervade the senses and biophilia takes center stage. There is also an air of spiritualism, survivalism and a sense of protection overtaking this trend. In design, organic and natural structures rule and with the use of technology, these designs can even be manipulated to create a new natural form. In architecture, the idea of living in nature continues to trend, and hotels within mountains and treetops provide the adventurous a sense of this lifestyle. For color, the palette contains blonder woods, earthy quartzite coloring and foliage greenery.
| | | |
| --- | --- | --- |
| DE6144 Graham Cracker | DE5251 Spice Cake | DE6236 Wilderness |
| DE6052 Dusty Trail | DE5566 Tara's Drapes | DE6174 Ridgecrest |
DEA187 Black
PHOTOS ABOVE TAKEN BY SARA MCLEAN. WITH PERMISSION OF SCARLET OPUS
Flooring trends application:
-Rugs in wood grain and tree trunk patterns, as well as references to forest floor undergrowth, grass and moss
-Woods are hypernatural with scraped and worn surfaces, smoked coloring and end-grain patterns
-Walls provide a surface for barklike patterns
-Tiles have earth coloring and raw earth patterning
-Another tile trend is the use of medallions and scrolls referencing Celtic symbols or Shaman symbols
CROSSVILLE SURFACES BOOTH.
PHOTO COURTESY DALTILE.
DALTILE SURFACES BOOTH
A New Age –- Extreme weather patterns, advancements in biotechnology and declarations of a new mini ice age come together to create this trend called "LIFE". Advancements in 3-D printing and the next-gen 4-D printing are creating design and architectural forms never thought possible before while transparency in life carries over to translucence in product design. Ice qualities and resins also give form to design and science and technology interweave throughout. The color palette is icy and snowy with soft grays, crystalline green, formaldehyde blues and metallic orchid.
| | | |
| --- | --- | --- |
| DE6394 Eagle's View | DE5919 Spacious Sky | DE6087 Muddy Rose |
| DE5710 Treetop | DE5732 Teal Me No Lies | DE5999 Royal Pretender |
DE5955 Purple Springs
PHOTOS ABOVE TAKEN BY SARA MCLEAN. WITH PERMISSION OF SCARLET OPUS.
Flooring trends application:
-Rugs look like liquid metallics and snow drifts, even trapped in ice
-Tiles are frosted, iridescent, crystalline with a push toward singular coloring in a combination of matte and shiny finishes
CROSSVILLE SURFACES BOOTH.
PHOTO COURTESY DALTILE.
DALTILE SURFACES BOOTH.
Revealing a glimpse of what's ahead for spring/summer 2015, the influence of South America and an overarching theme of culture, "RE.CONNECT" was also displayed. A nod to diversity, pilgrimage and pattern mash-ups, this colorful trend is sure to be a key influence throughout the flooring industry.

| | | |
| --- | --- | --- |
| DEA151 Red Ink | DE5103 Pink Glamour | DEA103 Striking Red |
| DE5558 Citrus Leaf | DEA143 Purple Odyssey | DE5908 Bellflower |
DEA191 Magic Night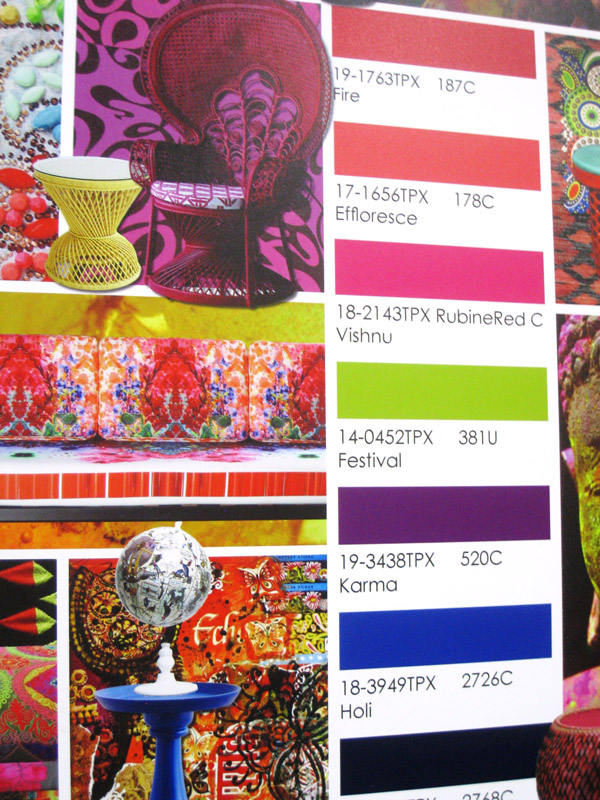 PHOTOS ABOVE TAKEN BY SARA MCLEAN. WITH PERMISSION OF SCARLET OPUS.
PHOTO COURTESY MOMENI RUGS.
To learn more about Scarlet Opus, visit http://www.scarletopus.com For more information on the Fall 2014 Surfaces show, visit http://www.surfaces.com.
Images by Sara McLean except as noted above.