Summer Flora and Fauna
Artistic Inspiration
Los Angeles is known for having breathtaking flora and fauna. And there's no better spot to get inspired by the city's natural wonders than at one of these public gardens.
Mildred E. Mathias Botanical Gardens
Established in 1929, this beautiful UCLA oasis features over 3500 species of plants that blend seamlessly into a forest-like display reminiscent of areas miles away from the hustle and bustle of the city.
777 Tiverton Dr., Los Angeles, CA 90095 http://www.botgard.ucla.edu/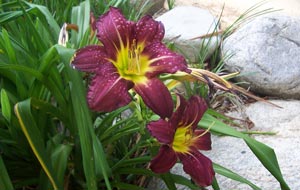 Japanese Garden
Doctor Koichi Kawana's "stroll garden" is a standout because it mixes three traditional designs – the Japanese rock garden, the wet garden and the tea ceremony garden. The end result is a landscape that's a picture perfect example of serenity: babbling waterfalls, bridges and a reflection pond full of blooming lotuses.
6100 Woodley Ave., Van Nuys, CA 91406 http://www.thejapanesegarden.com/index.html
Arlington Garden
Pasadena's only dedicated public garden feels like the kind of place where fairies live courtesy of its to mix of colorful flowers, lush succulents, orange groves and plenty of shady seating areas. But this garden is more than a pretty face – it's a great example of smart irrigation, thanks to its use of low flow watering devices.
295 Arlington Dr., Pasadena, CA 91105 http://www.arlingtongardeninpasadena.org/
Amir's Garden
Three decades ago this garden's namesake, Amir Dialameh, turned a barren piece of land along one of Griffith Park's trails into a lush, hillside rest stop for hikers. The main area is a nod to California's quirky side: brightly colored seating and hand painted tin planters. While pathways up and down the side of the hill lead visitors through wild vegetation to hidden picnic tables where you can catch breathtaking views.
Griffith Park http://amirsgarden.org/index.html
Exposition Rose Garden
Built in 1929, this popular city garden looks like something imported from a European estate. Its' rows upon rows of roses are a reminder of how powerful choosing a singular flower in a variety of colors can be to the eye – not to mention the nose. Stroll the green or sit in one of the strategically placed gazebos and enjoy the view.
701 State Dr., Los Angeles, CA 90037 http://www.laparks.org/exporosegarden/rosegarden.htm
All Images by Megan Mostyn-Brown