Spotlight: Surfaces 2013 Trade Show Trends
Design Trends
SURFACES StonExpo/Marmomacc Americas 2013, a leading international design flooring trade show and conference sponsored by Hanley Wood, held its annual gathering concurrently with Las Vegas Market this past January 2013.
For three days, the event brought together thousands of retailers, distributors, installers, designers and homebuilders for networking, education and product sourcing of hardwoods, carpeting, tile, rugs, and a myriad of flooring choices.
The conference portion of the trade show brought a wealth of information on flooring trends as well as classes on social media, marketing, business, maintenance and restoration among many other categories. I attended the Designer Days seminars, two all-day seminars which included hard and soft surface trends, show tours and presentations by prominent designers. These designer days have become increasingly popular and Scarlet Opus, a trend forecasting firm from the UK, offered several seminars and tours devoted to showcasing flooring trends.

Scarlet Opus is participating in Surfaces for the fourth year, providing a comprehensive program to the design industry. Forecasting two years, they are already completing the autumn/winter 2014-15 trends. During the show, we viewed the 2013-2014 trends of flooring, both soft and hard surfaces and a behind-the-scenes look on how Scarlet Opus determines their forecast.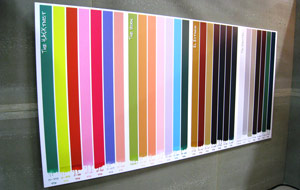 Victoria Redshaw, managing director of Scarlet Opus, provided key trend stories and overall, has noticed a return to pattern and color. After the past few seasons of austerity, which reflected the economic recession, people are ready for a return to color and lively pattern mixes. Here are the Scarlet Opus trends for hard and soft surfaces.

HARD and SOFT SURFACE TRENDS 2013-2014
The Vision
Evolution of SCI/tech science and technology trend from past season
Color is less clinical, sterile and masculine and is transitioning to subtle, fragile and diffused pastels and soft cosmetic tones complemented with white, black and silver sheens
Key Architectural influence: pearlescent finishes
Hard Surfaces:
ordered patterns
tessellated patterns
blonder woods
Soft Surfaces:
sea pod shapes and skeletal formations
fleshy-colored furnishings
carpets and rugs in grayed lilacs and hazy apricots
nude shimmers and blush shades
nuanced colors in pink, lilac, green, blue
repetitive patterns and serene order


| | | |
| --- | --- | --- |
| DE5295 Sandstorm | DE5206 Tan Temptation | DE5058 Cherry Blush |
| DE5961 Tinted Iris | DE5723 Fountain City | DE5741 Peacock Plume |

The Expedition (hardsurface-only trend)
Evolution of Forces of Nature trend from 2012 and Craftpunk trend of autumn/winter 2012-2013
Colors are cloudy, earthy with greens, blues and browns plus accents of brights such as red and cobalt blue; Ice white is key along with rock gray
Key Architectural influence: lodge luxe
Hard surfaces: burnished timbers, natural curves, end grains of wood, recycled materials that look and act like wood, color and character infused into the wood grain, rock surface interiors

El Estancia
Similar trend to The Expedition trend, however, El Estancia focuses on tribal trends with exotic, dark, spicy and luxury twists
Fusion of 2 distinct styles – earthy and humble plus glamour and sophistication
Colors are blackened, dark and oily with dry linen and pewter as grounding influences
Key Architectural influence: bringing the outdoors inside; open spaces of South America
Hard surfaces:
dark copper
oxidized surfaces
reclaimed oak tobacco
worn effects
ikat prints
Soft Surfaces:
Carpets are pebbled, felted, in shearling
Knitted; chenilles are oversized
Pompom knits
Luster to yarn and fibers

| | | |
| --- | --- | --- |
| DEA182 Encore Teal | DE6014 Dark Chocolate | DE5804 Nightfall |
| DE5958 Purple Potion | DEA154 Red Revival | DE6111 S'mores |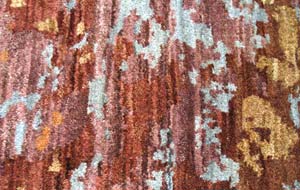 H.ACKtivist
Evolution of Color Capital trend of 2012 and Retro trend of autumn/winter 2012-2013
Colors are bright, pushing the primaries and pastels to the limit with highlighter yellow and glossy white and black; Key Color – Coral;
Key architectural influence: outdoor wallpaper, spliced and fragmented patterns and materials on building exteriors
Hard Surfaces:
poured concrete
neon continues
super bright colors with blonde woods
hi-def color with gray
quirky and fun furniture pieces

Soft Surfaces:
personalized and playful
embroidery
subtle flecks of bright color
all things bright and beautiful
key color combination: coral and pink


| | | |
| --- | --- | --- |
| DE5731 Port Hope | DEA119 Electric Glow | DEA113 Orange Burst |
| DE5040 Lipstick | DE5969 Purple Potion | DE5109 Salmon Upstream |
The Curator
Evolution of Emporium 2012 and Orient spring/summer 2013
Colors are opulent and grand, with Emerald, blues, champagne gold, oxidized bronze, pewter and black plus marble
Key architectural influence: adopting a mix of historic styles including Art Nouveau and Art Deco as well as late 19 th century and Victorian Gothic
Hard Surfaces:
tile is bold
lots of pattern
eclectic mixes
wood is aged, antiqued and worn
Soft Surfaces:
Densely packed florals that are slightly wilted, darkly romantic
Key colors: wine, berry, ruby
Japanese styling and Art Nouveau influences
Old World weaves, tapestries, Venetian marbling

| | | |
| --- | --- | --- |
| DE6387 Dangerous Robot | DE6123 Trail Dust | DE6021 Outer Boundary |
| DEA147 Garnet Evening | DE5699 Emerald Pool | DE5832 Navy Teal |
Bottom Product Images:
On Left: Allusion by Genesis Product Development http://www.genesispd.nl
On Right: Blue/Green resin by Metal FX http://metal-fx.com
The Bloc-(soft surface-only trend)
Russian Revival Trend: a mix of 2 styles – old USSR styling and constructivism
Colors are jewel tones with black and military gold, red, dark blue, aerosol pink and highlighter yellow
Key architectural influence: Russian folk styling, ornate, jewel-detailed
Soft surfaces:
Russian folk styling
bold and flat color such as red and blue with ecru and cream
tapestries, needlepoint, cross-stitch
Special thanks to Scarlet Opus for providing key insights into these trends. To read more about this trend service provider to the trade; http://www.scarletopus.com and http://www.trendsblog.co.uk
All photography by Sara McLean