Palm Springs Modernism Week: A Retro Celebration
Design Trends
Traveling back in time, we arrive at the hippest place to be this week, Palm Springs, California, for the annual Modernism Week show.

Filled with tours, exhibitions, and seminars along with the coolest mid-century architecture, this show gathers the largest pool of mid-century modern information for those professionals seeking the latest information on the design and history of this architectural style.
Last year's show was a focus on overall architecture in the Palm Springs area as well as a tour of the Annenberg Estate. This year's time was spent at the Pan-Am exhibition, a tour of several neighborhoods in Palm Springs- including the El Rancho Vista Estates designed by the architectural firm of Wexler & Harrison, a tour of the Marrakesh Country Club and estates in Palm Desert, and taking part in the Modernism Expo, Prefab Show and Vintage Trailer show. As mid-century design continues to uptrend in the Southwest, confirming that this classic design endures today, we continue to research the influences this time period has on our architecture and design today. Enjoy the show!

Pan Am Exhibit
Marrakesh Designer Showcase
El Rancho Vista Estates Tour
Modern Home Expo, Prefab Show and Vintage Trailer Show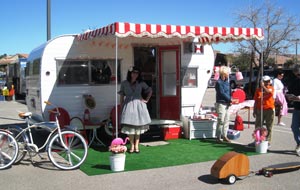 See the Show in Detail
Photography by Sara McLean except images noted below:

Lead Photo: Palm Springs Visitors Center (formerly Tramway Gas Station), Frey and Chambers, architects, 1963-65; photo by Gregg Felson

Bus Tour Photo: David Dixon