Nose Knows Design
Design Trends
The latest design trend to hit the market is the art of scent design. Beyond celebrity perfumes and typical seasonal fragrances we've become accustomed to lies designers whose focus is on the olfactory senses.

I recently heard of this trend through our yearly international Color Marketing Group (CMG) meeting where I met Tracy Pepe, owner of Nose Knows Design in Toronto, Canada. Her presentation on the world of scent design culminated in showcasing personalized scents corresponding to a few of the CMG-forecasted colors for 2014. A fascinating combination to be sure – to smell a color! And the world of scent marketing has even garnered national attention. Check out this clip on The Today Show discussing the scent marketing trend:

Scent Marketing on The Today Show
Design Background
Tracy studied perfumery and began her career with a request of an architect. As Tracy further explains, "It started with a simple request from an architect who knew my husband, they were building an office space. They were working with a common area, open concept, and they wanted aromas to a) contract food aromas from employees and b) to add to the space - I said YES as I always do, and worked with them until it was perfect. The client IBI Group - the space McDonalds Head Office Canada. I was just studying perfumery and jumped all over it." This amazing opportunity allowed Tracy to begin her business, Nose Knows Design.

Nose Knows Design
Nose Knows Design, Tracy's company, creates custom aromas for architecture, interior design and store environments in order to capture the aroma of a space. As the first person to scent a commercial space in Canada, Tracy has worked over 25 years scenting spaces and works closely with her clientele to find the best scent to heighten the experience, noting the psychological and emotional impacts of scent along with clientele insights, architectural or design aesthetics and brand recognition. Each client walks away with a highly personalized scent experience and aroma to call their own.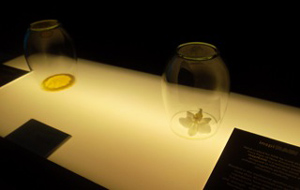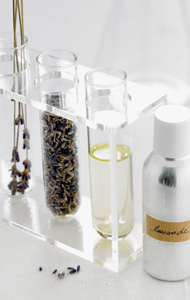 Creative Inspiration comes from everywhere and Tracy's inspirational sources are similar to many of us working in creative fields. "My source of inspiration comes from many areas. I love all kinds of scents; I just find it fascinating - so this desire I have really pushes me to find more."

She further exclaims, "As a pioneer in my world, within a new industry meaning under 25 years, it is like a kid in a candy store - I rarely say NO to a challenge but I do say no to many ideas. I find color-design just fascinating, and with my interest in synesthesia, (I guess I have a slight condition of it), when I smell I can see color and how it will make us feel in a space, my sixth sense."
With scent playing such a significant role in her life, I wondered what Tracy's favorite scents are. "Scents - love them all, but I love gourmands, chocolate, coffee, I am a foody and cook as a hobby so I smell everything!"

As for least favorite scents? "Sweet florals! I am not crazy about perfume in general and I really do not like perfumes in general. I appreciate if they are crafted well, and I can value perfumers who work on projects for years as a craft but truthfully - scent should not be so personal, it should be appreciated more."
CMG Scents
What is the smell of color? Tracy Pepe has this figured out, and with the launch of Déjà vu, a fragrance collection based on several colors of the CMG 2014 color forecast, each color delivers a specific aroma personality that you can practically smell on your computer screen. Here are the four fragrances:

Lipstain: Wanton passion meets intimate comfort. A scent designed to paint sensory pleasures in a palette of deep blushing colors and rich, fragrant ingredients.

Cocoa Repose: Shameless notes of benzoin and dark earthy chocolate melt with vanilla so smooth and rich that a mere trace of it suggests an intimate connection.

RE-BLUED: Sun-kissed and sea breezed, the scent of RE-BLUED soothes the senses like a sailboat ride over gentle waves.

Analog: Mossy notes roll out like a green carpet for the spirits of the forest to grace in their entire luminous splendor.

To read about the Déjà vu collection in its entirety, click here.

What's Next? "OH my! The list is huge, Déjà vu is the scent system I am launching to the design trade hoping to teach how scent and color work in design. In the field of branding I'm working on scented bus shelters for McDonalds with fresh coffee, and scenting high-end appliances so when you open the oven it smells like pizza without cooking. In the artistic world, I am working at the Toronto Festival with a local artist to feature scent as an art in an outdoor exhibit at Nuit et Blanche in Toronto.
In the research field, I am working with a world class research team, studying five areas on how scent impacts space. And finally, I am writing my book on the entire journey of scenting spaces." With a full plate of projects and several upcoming speaking engagements, Tracy Pepe's work as ambassador of scent design will soon be everywhere.
To read more on Nose Knows Design, http://www.noseknowsdesign.com
All photography with permission and courtesy of Tracy Pepe at Nose Knows Design.