To inform and inspire! That is the motto of the Los Angeles International Textile Show (LA Textile). And as the fashion industry's West Coast destination for premier textile, design and production resources, LA Textile showcases a high-caliber range of resources and trend direction for designers. Open February 25-27, 2013, attendance was essential to find out the latest in textile design, what we'll see in the fashion industry that will translate to interior design and meet the trend makers in this cross-industry platform.
Resources at the show presented their latest collections to the trade for the Spring and Summer 2014 season. With these introductions, we see several trends pushing forward in the fashion industry for 2014. Presented and displayed by Stylesight, a leading trend forecasting organization for the fashion industry, here are the trend highlights to note from the runways to interiors.
Eden
Based on fantastical escapism, there is an explosion of color in this trend theme. Think jungle paradise with a touch of modernism.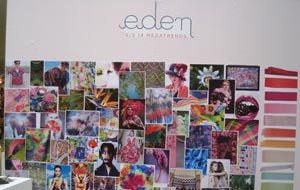 Creed
Created with a basis of meditation and contemplation, this trend focuses on the quiet escape of the oceans below and skies above. Colors are tranquil, heavy on blue hues and with a touch of the life force of coral.

Real
The 1970s is reviewed through filtered rose-colored glasses inspiring memories and reflections of time past. Colors are muted, filtered, rosy and with a touch of 70s yellow and avocado.

Rational
Mathematics inspire this trend and highlight the beauty in symmetry and simplicity. Colors are architectural and muted with chalky whites, terra cotta shades, grays and black.

All Photography by Sara McLean

To learn more about LA Textile, visit http://www.californiamarketcenter.com/latextile
Blog http://www.latextile.blogspot.com
Twitter http://www.twitter.com/latextile
Facebook http://www.facebook.com/latextile
Instagram http://www.instagram.com/latextile