L.A. Public Arts
Artistic Inspiration
The Los Angeles sprawl offers an abundant amount of opportunities to get inspired by public arts projects. From Santa Monica to Watts, there are thousands of murals, sculptures and instillations that push boundaries and break the mold when it comes to form, materials and color. Here are a few key public works.
Sam Rodia's Watts Towers (1954), also known as Nuestro Pueblo, is one of the city's most famous pieces. Located in the Watts neighborhood, this magnificent instillation consists of seventeen steel and mortar structures covered in a mosaic of glass, shells and pottery. The project was a labor of love that Rodia completed by himself over the course of 34 years with only the use of a few hand tools. The end result is a masterpiece that juts out from the landscape as a testament to creative vision, perseverance and artistic spirit.

Travel further north to the L.A. Mart, where you'll discover the largest solid oak kitchen chair. This piece is a lesson in proportion: Though the design of the chair is simple, its enormous size (40 feet high) turns it into something extraordinary to behold.

Northwest of the L.A. Mart is Downtown's Grand Hope Park, designed by famed landscape architect Lawrence Halprin. At the edge of the park is the stunning 53-foot Clock Tower (1993). In an area filled with right angles and muted tones the tower's mosaic stands out for its unabashed use of bright color and interesting shapes.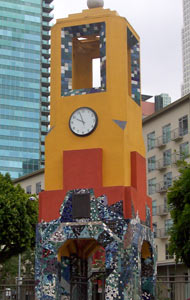 Head just 10 minutes outside of downtown to Barnsdall Art Park in Hollywood. Tucked away on the east side of the grounds is Temple II by Gene Flores (1979), a metal sculpture that cleverly plays with angle and perspective. It's a reminder that a piece of art can transform depending on the viewer's angle.

To learn more about public art in Los Angeles visit: http://publicartdialogue.org/newsletter/winter-2012/public-art-los-angeles
For a complete list of public art in Los Angeles visit: http://www.publicartinla.com/
To get more information on the Watts Towers visit: http://www.wattstowers.us/history.htm