LA Art Walk: Self-Guided Inspiration
Artistic Inspiration
As the old saying goes, "Inspiration is everywhere." Next time you're looking for a concentrated dose, try the Downtown Los Angeles Art Walk.
Held on the second Thursday of each month, this self –guided tour of Gallery Row gives Angelenos the chance to sneak a peek into local galleries and studios, enjoy live music and indulge in deals and specials at areas shops and restaurants.
No two art walks are alike. Each month features new pieces by old favorites as well as burgeoning creatives getting their inaugural chance to display their work.
Some highlights from July's art walk include:
Machine Inspired Art Gallery (MIA) at Crimson Society's Relier Exhibition
This showcase of work from Cal Poly Pomona's alumni, professors and current students featured 2D and 3D work in a mix of materials. The collection's futuristic renderings, building models and wall art -- including a series of inventive clocks by Ando Pndlian -- is inspiration for architects and designers looking to expand the ideas of shape, form and purpose.


Painting in Place presented by Los Angeles Nomadic Division (LAND) at the Famers and Merchants Bank
This eclectic collection of pieces employs both traditional and out-of-the box techniques to explore themes like self, memory and the negotiation between open space and architecture. Many of the sculptural works (specifically Alexandra Grant's Model Self 2) eschew traditional materials for "craft" items like adhesive stickers and disco balls. While instillations like Matias Faldbakken's simple ceramic tiled wall and Olga Koumoundouros giant acrylic rainbow seemed to fit in so seamlessly to the space that it was easy to forget they were part of the exhibit.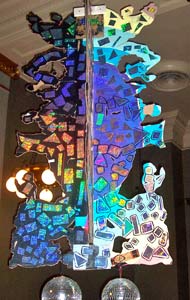 Art Walk Lounge
At the Art Walk Lounge, Matthew Weinberg's Painted Cash was a clever mix of pop art and commerce. The series -- which features drawings on dollar bills -- is a small reminder the definition of "canvas" can reach far beyond the traditional notions.
Gloria Delson Contemporary Art Gallery
At this small gallery on 6th Street, fine artist Charles McCauley's photos of downtown LA buildings put texture under the microscope. These close-up shots of neighborhood walls force the observer to contemplate the intricacies in exterior materials making them food for thought for architects used to thinking about the big picture.


Public Art
The art walk is also a chance to take in the area's outdoor public pieces. In fact, visitors who cruised up Broadway prior to sundown were lucky enough to catch art in action in the form of a large-scale mural being painted on the side of the SB Lofts. Proving not only can art (and inspiration) happen anywhere -- but at any time.

All Images by Megan Mostyn-Brown

For more information on the Downtown LA Art Walk and participating galleries visit: downtownartwalk.org

Gloria Delson Gallery: http://www.gdcagallery.com/index.html
Charles McCauley: http://www.charlesmccauleyphotography.com/
Ando Pndlian: http://searchresq.com/laservision/
Matthew Weinberg: http://www.coagulacuratorial.com/html/weinberg.html
MIA http://www.machineinspiredart.com/
Painting in Place: http://www.nomadicdivision.org/exhibitions/paintinginplace/default.html