John Divola: As Far as I Could Get
Artistic Inspiration
In the age of Facebook and Instagram, where cool smartphone quick pics are given street cred, it's hard to remember that photography isn't just about capturing a beautiful image, but a vehicle for questioning the way we see the world. As in other artistic mediums, the photographer is in control of the image we are viewing. But unlike a painting or a drawing, photos allow us to be fooled into buying artifice as reality, begging onlookers to ask: Is the photo a real moment captured in real time? Or something lit and posed to look as if it is?

JOHN DIVOLA. LACMA INSTALLATION VIEW.
As Far as I Could Get, the first retrospective of John Divola's work, is a great example of a photographer attempting to expose the blurred the line between imitation and documentary. LACMA'S leg of this three-part exhibition (the other two parts were on view at the Santa Barbara Museum of Art and the Pomona College Museum of Art) includes work from the artist's later series. Divola, a graduate of CSU Northridge and UCLA, favors pushing the boundaries of photography by mixing it with sculpture and contemporary art
Artificial Nature features authentic looking scenes, that when given a closer look are revealed to be Hollywood soundstages. The true nature of the photos is given away subtly: flat lighting, a clapboard perched in the sand, the visible edge of a backdrop. It's an interesting meditation on how composition can so easily fool the eye.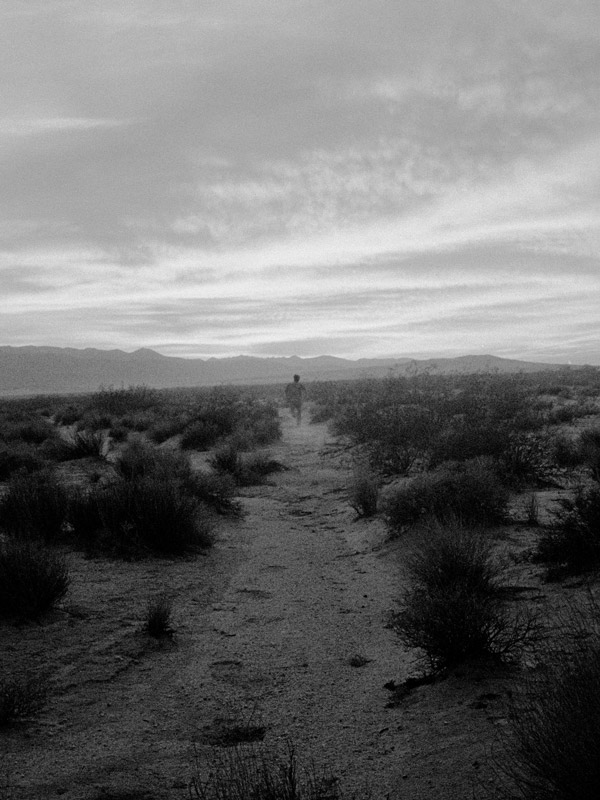 JOHN DIVOLA. AS FAR AS I COULD GET (R02F06), 10 SECONDS, 1996-97.
PIGMENT PRINT.
The same themes are explored in 20x24 Polaroid. Crude sculptures of recognizable objects (rabbit, tree branches) crafted from detritus and found materials are photographed in a way that exposes their imperfections. Like the soundstage photos, a first glance does not always provide the most truthful interpretation of what we are looking at.

The last two series in the retrospective are especially palpable for architects and interior designers. Both play with point of focus. In As Far as I Could Get, Divola put the camera on a ten second timer and then ran in frame, capturing his moving visage in a variety of settings, essentially making himself the star of his own photos. In Seven Songbirds and a Rabbit, Divola magnifies a single detail (bird, rabbit) from an old stereoscopic image. The new image is hung next to the old one, often revealing that the bird or rabbit is virtually unseen in the original incarnation. It's an interesting way to show how a new point of view, a new point of focus can create an entirely different narrative.


For more information on John Divola: As Far as I Could Get, visit www.lacma.org.

All images courtesy LACMA