Holiday 2012 Tour Store by Store
Artistic Inspiration
Last week we highlighted the color and design trends for this holiday season. Now we bring you an in-depth tour of the stores visited, highlighting the creative genius of these designer masterpieces. Enjoy the tour!

Louis Vuitton - Showcasing starbursts of metallic flare, Louis Vuitton highlights the world of luxury and the trend in metals.
Tiffany - What's behind the blue door? A Tiffany diamond of course. Gorgeous miniature displays of times past highlight these precious jewels.
Cartier - The Cartier red box is a staple of the jewelry scene. Seeing a bountiful set of these boxes dangling from the air while a cat tries to grab one brings a sense of frivolity and fun to the scene.
Ralph Lauren - American luxury with Art Deco nuances are displayed at the Ralph Lauren store on Rodeo. Beautiful creams with touches of black, charcoal, gold and silver make this set shine.
Brooks Brothers - As mentioned in prior reporting, plaids are uptrending and we see this trend best displayed at Brooks Brothers. Traditional plaids play against a traditional holiday backdrop; reminders of home.
Barney's - Always creative, this year Barney's brings us a partnership between the Disney characters and the Barney's brand. Appropriately named "Electric Holiday" the window displays herald the best of the trend in the use of lighting and technology in design. Be sure to check out the 3 minute video of Minnie Mouse and other characters on the catwalk when you walk Rodeo Drive. It will surely brighten your holidays.
Burberry - Silver metallic balloons surround the mannequins on display at Burberry. Another great example of the trend in metals.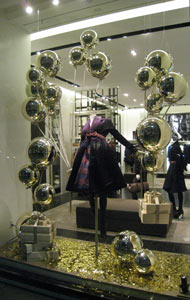 J.Crew - A charming display at J.Crew provides the viewer a colorful world of gift tags. With home made and hand crafted looks on trend, this is on-point.
Anthropologie - Anthropologie seems to have an endless treasure trove of magnificent displays and this season is no different. For the holidays we see intricate laser-cut papers exhibiting winter wonderlands.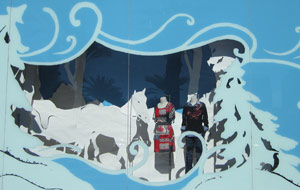 The Grove in Los Angeles - In the center of this shopping village stands Santa's workshop. A great display of theatrics, the workshop is set up as a gingerbread house with color and design elements covering every square inch of the display. A beautiful display of theater.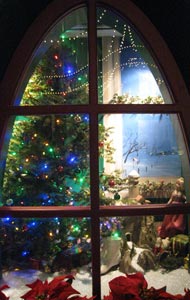 Over in Paris - Two stores that always get quite a bit of attention at the holidays in Paris are Printemps Paris and Galeries Lafayette. Intricate details in each of their scene provide a wondrous view of the Dior dolls dressed at adventurists in hot-air balloons while the Luis Vuitton characters provide comic relief with penguins, dancers, and drum majors dancing to the Vuitton tune. We are also shown a glimpse of the world of Cinderella in a resplendent landscape scene.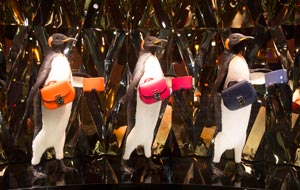 Happy Holidays from all of us at Dunn-Edwards!

All photography by Sara McLean and Corbis Images