Artistic Inspiration
High Above NYC: The High Line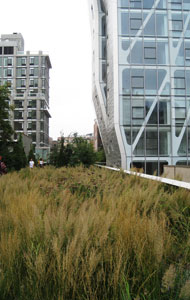 On a recent trip to New York, I discovered the High Line. Well known to New Yorkers, I wanted to see what the buzz was about. In walking the entire length of the High Line, I discovered the beauty inherent in this amazing urban redevelopment project.
The urban regeneration and reclaiming of neglected and often abandoned places in cities can benefit everyone in the community. The High Line is a great example of this architectural design trend and real gem offering a new perspective to the downtown NYC area.
The High Line project started as a dream for two neighbors looking to fix up neglected spaces - artist and business consultant, Robert Hammond, co-founder and executive director of the non-profit organization Friends of the High Line, and journalist Joshua David. These two were instrumental in saving the space from demolition.

History
The High Line was originally the railway linking warehouses and factories in the city from 1934-1980 in the lower West side downtown areas of Manhattan, the Meatpacking district and West Chelsea. As cheaper routes evolved the rail line was being prepped for demolition.
With the acknowledgement of the important role this rail line represented to Manhattan's industrial past, efforts were created to rehabilitate the rail line into an urban park.
Design
Suspended 30 feet in the air, the first 2 phases of the High Line have been completed and there are plans for completing the rest of the line in the next few years. The urban park was created along the railroad tracks with additional plant life, paths, bridges, viewing platforms and art projects completing the transformation.
The High Line creates a green pathway along the lower city blocks and this unexpected paradise is open daily and free. Some of the best views of the city skyline and river as well as architecture are offered along the route.
The High Line Today
Key backing from celebrities such as Diane von Furstenberg, Donna Karan and Calvin Klein, who have placed their headquarters along the High Line, have helped to change these communities into one of the most in-demand areas to live and work. "This isn't about pretty spaces and plants. This is going to be the economic generator for the neighborhood and the city as a whole," declares Hammond of the park's continuing potential to be a major catalyst for economic growth.

Friends of the High Line conducted a study initially projecting $200 million in tax revenues over a 20-year period derived from new developments the High Line will attract around it and local business benefiting from visitors of the park. The number was recently updated to $900 million reflecting the economic growth the park has already sparked.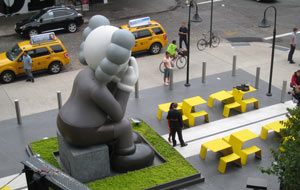 To learn more about the High Line, visit www.thehighline.org/
All images by Sara McLean