Hidden Los Angeles: The City's Secret Staircases
Artistic Inspiration
"Walking in L.A., nobody walks in L.A."
Los Angeles is a car town. No one hoofs it from one place to the next. In fact, this city is notorious for citizens driving comically short distances in the name of convenience.
Which makes it twice as surprising that it's also a city full of hidden staircases. According to Charles Fleming's book Secret Stairs: A Walking Guide to the Historic Staircases of Los Angeles, this city was once a place where people used trolleys and streetcars to get to and fro. Public staircases were erected by city planners and developers as a short cut for pedestrians to access hillside communities. They were typically built near transit lines and in on some cases, were the only access point from the street to the rest of the neighborhood.
Though a good portion of L.A.'s public transportation system is gone, the staircases remain intact. Which means designers looking for outside-the-box inspiration have access to this little piece of history (that also doubles as a major workout).

The staircases themselves vary in materials: short brick staircase just up the ridge from Elysian Park, intricately detailed granite stairs peppered throughout Beachwood Canyon and simple sets of concrete stairs that cut through the hills of Silver Lake. You'll even find sets with old fashion streetlamps, built-in planters and benches that pedestrians can rest on. In fact, the double set of stairs at Woodshire Drive used to have a stream running down the center of it.

The stairs also give access to breathtaking city views, stunning feats of architecture and a bit of history. Head to Echo Park and you'll find staircases that lead you to hilltop vistas of Elysian Park. Off Sunset, you'll find a concrete staircase that is the front door access point for a series of colorful craftsman houses. Head west to Silver Lake to the Music Box steps and walk the same path as Laurel and Hardy from their famous 1932 short.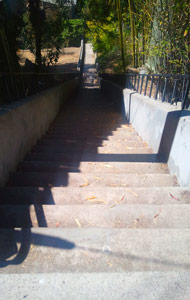 In Beachwood Canyon the staircases bring you up close and personal with decadent homes built for Hollywood scions in the 1920s and 1930s. The entrance to one of the main staircases in this neighborhood, is just feet away from a stone castle. As you head down it, you can also catch a view of the Hollywood sign. Another notable staircase in the Hollywood area, the Broadview steps, offers a view of the iconic High Tower elevator.
Though the staircases are concentrated on the east side, you can travel west to Santa Monica and the Palisades to hike sets that offer panoramic beach views.
For more information on LA's hidden staircases and nearby treasures visit: www.secretstairs-la.com/welcome.html