Harvest Abundance: 2013 Thanksgiving Color Trends and Palettes
Design Trends
The sights and sounds of the holidays are upon us once again. As we look forward to Thanksgiving, there are several trends to note in color and décor. Expressing the many moods of the season, these trends and colors are sure to get the creativity flowing for your fall design projects.
Fall Harvest Décor
This year we see several trends in décor and design for the Thanksgiving holiday. Each trend incorporates a distinct ambiance into the design and allows for sophistication, tradition, modernity, humor and creativity.
A Long Pilgrimage
In honor of the nation's beginning, we look to Plymouth Rock and the first Thanksgiving. Standing on tradition and history, textures and materials take on a worn and weathered look as if everything is from long ago. Special details to include are stone-cast figurines of pilgrims; dull pewter metals on details such as candlesticks or pumpkins; birch bark; tree roots; feathers; natural materials such as cotton and wool; and Indian corn, corn husks and wheat stalks.

A Long Pilgrimage Color Palette
| | | | |
| --- | --- | --- | --- |
| DE6067 Crushed Stone | DE6355 Tarnished Silver | DE5055 Merlot | DEA194 Mulberry |
| DE5124 Southwestern Clay | DE5319 Lion's Mane | DE5328 Driftwood | DE6119 Neutral Valley |
| DE5183 Light Carob | DE5208 Harvest Time | DE5647 Reeds | DE6392 Mink |
A Plentiful Harvest
As the season changes -- providing us with crisp and cool mornings; late-afternoon, warm sunny days; and early evening sunsets -- harvest colors open up in a world right outside our front door. Pressed leaves inspire the trend, with the warm reds, golds, oranges, browns and yellows providing a leading role this season. Other autumn elements include apples, gourds, berry clusters, nut shells, acorns and, of course, pumpkins in all their natural coloring. Show your creativity by adding handcrafted décor such as metal turkeys, felt craftwork, burlap, leaf rakes, and craft paper designs. Smoked and opaque glass, glazed ceramic, rough pine and old-fashioned candles complete the scene.

A Plentiful Harvest Color Palette

| | | | |
| --- | --- | --- | --- |
| DE5285 Antique Brass | DE5125 Red River | DE5242 Beeswax | DE5054 Candied Apple |
| DE6090 Western Red | DE5389 Ripe Pineapple | DEA130 Lucky Clover | DE5006 Plum Passion |
| DE5578 Wasabi | DEC711 Cliff Brown | DEA188 Black Bay | DE5418 Gilded |
Curated Vintage
Looking to early 20 th-century commercial enterprises and kitchen advertising as inspiration, this trend includes industrial and apothecary design, offering a fresh idea for a holiday setting. Look for old-fashioned food scales, metal letters from letterpresses, buttons, chalkboards with the holiday menu and first-edition book collections to set up the design. Also include apothecary jars, bread tins and pressed metalwork, as well as textiles that are reminiscent of Art Nouveau design and color.

Curated Vintage Color Palette

| | | | |
| --- | --- | --- | --- |
| DE6314 Dark Pewter | DEW358 Milk Glass | DEC700 Teatime Mauve | DEC701 Revival Rose |
| DEC702 Antique Rose | DE5772 Blue Spruce | DE5822 Silver Storm | DE5571 Ivy Enchantment |
| DEA105 Cherry Bomb | DE5445 Tanami Desert | DE5348 Corn Harvest | DE6003 Sweetie Pie |
Monochromatic Moods
Let's face it. As Halloween, one of the most colorful times of the year, recedes from memory, some long for a softened and muted palette. Trending upward for the past few seasons, a monochromatic palette continues to be an inviting entrée into the late fall. Metallics,whites and wheat coloring pair well with honey gold for a relaxed setting. White painted antlers, wheat stalks, garland made of acorns, black-and-white charcoal etchings and white pumpkins provide additional layers to the design.

Monochromatic Moods Color Palette

| | | | |
| --- | --- | --- | --- |
| DEW313 Early Snow | DEW351 Antique White | DEW395 Heirloom Shade | DE6110 Warm Hearth |
| DE6160 Fall Harvest | DE6165 Toasted Marshmallow | DE6167 Antique Honey | DE5270 Apple Cider |
| DE6157 Bisque Tan | DE6155 Soft Ivory | DEC752 Birchwood | DE5728 Tinted Ice |
Spice Market
As the smells of Thanksgiving and late fall start permeating the air, one is transported to global spice markets. The robust scents of cinnamon, herbs, allspice, apple cider and roasting seeds provide a strong spice market palette, popular for today's Thanksgiving and fall décor. Deep and bright reds, ginger orange, and browns provide the foundation to this earthy palette, while touches of spicy mustard and citrus brighten the room. Add jars of spices, clove-infused oranges and pomegranates -- along with multi-patterned textiles, Spanish-carved candlesticks and earthenware -- for a complete look for your festivities.

Spice Market Color Palette

| | | | |
| --- | --- | --- | --- |
| DE5384 Spicy Mustard | DE5466 Citrus Spice | DE5151 Cinnamon Stick | DE5621 Wild Thyme |
| DE6152 Maple View | DE6032 Hazelnut | DE5090 Pomegranate | DEA159 Rich Mocha |
| DE5193 Spiced Nectarine | DE5271 Ginger Spice | DE5251 Spice Cake | DE5407 Pumpkin Seed |
A Blue Harvest
Blue has been uptrending the past few years, charging full force into the mainstream, as well as holiday décor. Thanksgiving is no exception, and the addition of blue to the season is a modern, fresh approach to the tradition of the season. Aged and deep midnight blues add backdrops with additional layers of cream, orange-reds, and gold metallic accents. Hand-painted touches in furnishings and decorations are paired with blue and white pumpkins and gourds, cream candles, pewter dinnerware and blue-tinted glassware. Add special touches with burlap and linen textiles, knotted-rope napkin rings and driftwood for an elegant, yet casual setting.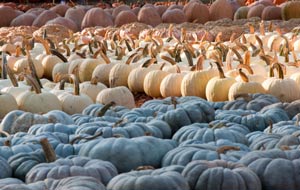 A Blue Harvest Color Palette
| | | | |
| --- | --- | --- | --- |
| DE6304 Blustery Wind | DE6312 Dusty Dream | DEC786 Miner's Dust | DEC787 Mythical Blue |
| DE5247 Allspice | DE6155 Soft Ivory | DE6187 Veranda Gold | DE5179 Bronzed Orange |
| DE5795 Spirit Mountain | DE6316 Cold Water | DE5207 Pecan Veneer | DE5144 Pouring Copper |
Fashion Forward
Fashion meets interior design in this modern take on the fall festivities. Pairing some of our 2013 trend colors with Pantone's fall 2013 fashion color palette, this modern scheme is sure to please the hipster crowd looking to move from the past into a new set of traditions. Begin with a winter white, orange and gray color palette base, then add touches of trendy accents such as emerald, brilliant blue and deep plum. Plaid and paisley textiles are paired with crisp white linen, piled with white mini pumpkins, gray pebbles, ripe pears and squash. Square white plates, small scotch tumblers and an abundance of candles set in driftwood complete the setting.

Fashion Forward Color Palette

| | | | |
| --- | --- | --- | --- |
| DE5755 Carnival Night | DE5699 Emerald Pool | DE5479 Hay Day | DEA136 Beautiful Blue |
| DEA143 Purple Odyssey | DEA107 Hot Jazz | DE5202 Desert Spice | DE6230 Center Ridge |
| DEA103 Striking Red | DE5797 Slate Wall | DEA158 Northern Territory | DEA146 Scarlet Apple |
Woodland Creatures
The creatures running around the forests and fields have entered the home. Owls are still abundant and foxes are gaining popularity. Add friendly squirrels and other critters and pair them with pine needles, branches, acorns and moss. Burlap and log cabin-inspired textiles add depth, while colorful dinnerware and thick glassware set the base layer. A precursor to the Christmas holiday trend, woodland creatures provide a fun twist on the rough luxe trend home and giftware collections.

]
Woodland Creatures Color Palette

| | | | |
| --- | --- | --- | --- |
| DE5146 Campfire | DE6354 Gray Wolf | DEC732 Aspen Yellow | DEA162 Log Cabin |
| DE6352 December Sky | DE5978 Plum Wine | DE5572 Sage Leaves | DE5569 Hidden Hills |
| DEA152 Deep Crimson | DEW330 Snug Cottage | DEA164 Autumn Bark | DEA175 Black Forest |
Happy Thanksgiving!