Design Trends
Global Color Trend Watch
Trends!It's an interesting concept that can lead you, offend and enslave you. You can choose to follow or ignore them and at times you wonder if it is in fact a trend, or a fad.
Traveling regularly between continents you can see how some trends know no boundaries and how others are lost in translation. With each new colour forecast some will have more relevance than others. All will be needed to communicate a look or trend, and as I explain on my blog, The Colour Field, there is hierarchy with each to be used in a certain percentage. From these forecasted colours some will be embraced in one country while overlooked by others.
Trends work in cycles.Think of the Milan International Furniture Fair as the beginning with discount home stores being the end. What is seen in Milan will be reinterpreted down the line over a period of months, or years, to the local discount store. In between are the independent shops, major department stores and so forth. I've worked across all markets from a international Swedish furniture company, to living in London for 12 years and for the past 2 years travelling back and forth from Sydney, apart from that I've also lived in Los Angeles, California. It's interesting to see who adopts what colours, along with when, and how, they are used.
Deciphering trends is a multi layered process and it's hard to verbalise why some colours will be more popular than others. Take Pantone's prediction of Tangerine for 2012. By the end of 2012 it will become more prominent in the Australian stores in the way of soft furnishings as it has in the UK over the past 6 months. The UK however, have taken it a step further and flowed the colour through to furniture.

In terms of fashion, on the streets of London Spring/Summer 2010 red, green and yellow jeans could be seen with no signs of them in Sydney. By Spring/Summer 2011 in London primary colours appeared everywhere under the title of colour blocking. Come November/December 2011 it's hitting the streets of Sydney and transferring to interior magazines. March/April 2012 in London the colour blocking trend starts to diminish but peaks in Sydney. Neon, which is dangerously close to being over-used is tracking one year behind this.
Some trends will transfer to the next relative seasons between countries but others will take longer, if at all, to be adsorbed or accepted. The quantity of people gravitating towards Tom Dixon's fluoro Offcut Collection four years ago in Australia would have been minimal but these pieces now seem to have relevance with the introduction of fluoro to smaller consumerable items such as cushions and bowls. The latter are the cheaper more conventional purchases that people understand which in turn has them accepting the radical hue. The more one sees a colour subliminally, the more they feel comfortable introducing it within their home.
Each week as I sit and deconstruct interior colour palettes for my blog I'm surrounded-almost drowning-in various paint decks and charts from the UK, US and Australia. As I pile them into the three continents you can almost immediately see where each country sits within the colour spectrum.

Generally speaking, the UK range from liking the moody, dark, muted black based colours to the polar opposite of the white based lilacs and blues. Whilst Australia leans towards the tonal schemes of whites, greys, chocolates etc., the American market leans toward the brighter, cleaner colours such as reds, blues, corals and yellows. No matter what colours are predicted these countries rarely stray from these. However, what you will see is the odd colour pop out-neon is a perfect example.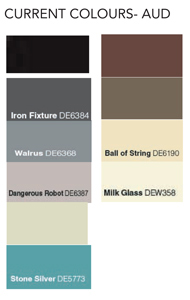 By nature people are inspired by their environment. For Australia it's very much about earth tones, colours of the ocean and the flora and fauna. Where as the English are more about wanting to either brighten up their interior due to the sullen sky or more interestingly, wanting to create an interior that is evocative. The English perception of colour is based on architectural history, such as Victorian and Georgian colourings. There is a myth that Australians love colour-note I am generalizing, we do, but it's localized, and mostly introduced in soft furnishings, and the classic feature wall, but not across a whole room. Whereas I would say the English completely embrace colour, the whole palette across the entire room-not always a good thing I might add.

Currently, the trend emerging specifically in Australia are the colours and patterns inspired by our close neighbours-Asia and India. Raspberry, sienna, chartreuse and indigo, all appearing in Ikat patterns and block prints along with African coloured batik cushions and objects. Unlike most countries, in Australia a singular colour will be chosen from the above and used as an accent in a tonal scheme. Charcoals, chocolates, taupe's and whites are the main stay in Australian interiors with highly reflective materials like copper and silver becoming more visible in the way of lights, wall art, side tables and detailing on chairs. A trend in Australian isn't necessarily just about colour it's about introducing texture-weathered woods, industrial metals, linens, wicker etc. It's in introducing these materials that a colour trend is established.

In the UK colours coming through are more delicate, subdued and nostalgic, reminiscent of the 50's. Soft mauves, dusty pinks, pale blues, mid greys and muted greens all with grey undertones and all being used in one. In relation to Australia, these colours will appear in soft furnishings. Where as the UK will introduce these colours in the way of paint, whether it be on the wall or a painted piece of furniture.

At the other end of the spectrum, and more of an underground movement, are the darker, moodier and muddy colours like charcoals, blood reds, deep ocean greens and blues. And like Australia, the UK are leaning towards the greyer end of the colour scale. The days of the white based 80's mints, peaches and lemons appearing in interiors are gone but then again, never say never! Today's trends will rebranded as an interior style in the years to come.
To learn more about Melinda Ashton Turner and her work as a stylist and interior designer, visit http://www.thecolourfield.net

All photography by Melinda Ashton-Turner