From Rags to Riches: A Cinderella House Restored
Design Trends
When Faith Paulus, Interior Designer and owner of Interiors By Faith happened upon a neglected cottage home in the quaint beachside community of Oceanside, CA - she was immediately smitten.

"Stop the car!" she exclaimed to her perplexed Realtor, Karen Rivoira, of The Jacques Company, who had somehow missed the 'For Sale' sign, which had been posted almost as an afterthought on the mangled front lawn.

Karen seemed dubious as she took in the drab apricot-colored Spanish Home, its natural light diminished by prison-like iron clad windows that did not appear to welcome the prospect of unsuspecting visitors. Nevertheless, Faith picked up the closest cell phone and thrust it into the reluctant hands of her realtor friend. "It's worth a call" she insisted. "If nothing else, I like the elevation."

The Listing Agent haltingly gave the usual information, before casually mentioning that the home was in dire need of an update. "It's a 1928 Spanish Home and has had just two owners over the years," she replied. "Try to use your imagination," she added with an apologetic tone, "and please ignore the smell. We plan to fumigate before officially placing the home on the market."

Together the two friends warily climbed the porch; where glimpses of a sky blue Pacific coastline peeked out mischievously between mossy green pines -- one of which appeared to be the centuries-old home of a doddering falcon who swooped down to inspect the two trespassers. A stout old woman wearing a turquoise housedress which managed to perfectly match her turquoise house, also eyed the two girls precariously as she rubbed the mangled fur of a tired calico cat. "There are stories about that house…." she warned from the safe distance of her porch.
Peering into the musty old living room, Karen took one sniff of stale smoke and cat urine, and immediately decided to bow out; "I have allergies" the courageous realtor confessed, as she slinked out the front door. "I'll just meet you back in the car," Karen added with a feeble smile.
Faith, nodded absentmindedly--already captivated with the homes features. Drawing back the tobacco stained curtains, she marveled at the beautiful moldings of this 1928 Spanish Home, and with a slight tug of a tattered corner of the carpet, was delighted to find the original hardwood floors in pristine condition. The vintage doors were still intact, their crystal knobs gleaming as if in complete disregard to the passing of eighty-four years.
An established visionary who excels at any design challenge, Faith has an uncanny knack as her business motto suggests, for Finding the Soul of Your Home. She decided to go forward with the purchase – and together with her team of trusted contractors – created a plan with the ambitious projection of just 8 weeks of construction.

Demo Day arrived – and with it came trailers of old wiring and drywall, which revealed the original 'lathe and plaster' studs. Next, the homes entire operating system was given a fresh and efficient new overhaul, including updates on the lighting and electrical system. The dining room received its very own enclosure via a newly arched doorway to separate it from the living room, and salvaged moldings were used to create a hexagon window between dining room and kitchen, to lure in both light and color from the garden.
The bathroom was gutted out to allow room for a Jacuzzi tub, and sophisticated appliances that spoke of a bygone era were brought in to both kitchen and bath. "It was important to maintain the architectural integrity of the cottage, while at the same time introducing twentieth century updates for improved efficiency." Faith notes. Details such as mosaic tile in the bathroom along with a bib sink and soaring cabinets in the kitchen helped to conserve the vintage look throughout the home.

Faith was delighted to find an original Doug Fir floor under five layers of vinyl in the kitchen. And chose as her finish a Dunn Edwards chestnut stain which blended nicely with the surrounding oak floors - also carefully restored to their original luster. An old railroad tie was discovered at a local salvage junkyard – and was chiseled and honed to create a beautiful mantelpiece - perfectly stained to match in a warm mahogany finish.

Finally, a smooth Venetian drywall finish was applied to both walls and ceilings of the home, and Faith- a professional color consultant, went to work weaving Dunn Edwards colors of 'Tropical Moss" and "Russett Green" as a warm contrast to the new floors. To enhance the home's Spanish architecture, she applied 'Tuscan Mosaic" as an accent within each of the newly created doorway arches. And 'Pearl Necklace' was chosen in a high gloss finish for all moldings, doors, and built-ins.

| | |
| --- | --- |
| DE5486 Tropical Moss | DE5484 Russet Green |
| DE6208 Tuscan Mosaic | DEW343 Pearl Necklace |
Now, complete with its elegant new look, this lovely restored Craftsman home is known as "Casa By The Sea" and is used as both a vacation rental home for growing Oceanside travelers, as well as an office for Faith, who consults and designs vacation rental properties. The exterior flaunts a fresh coat of 'Shaker Grey" paint coupled with traditional black awnings to match the wrought iron gates, which were designed by Faith and fabricated in Mexico.


Charming black awnings and overflowing boxes of brilliant geraniums peek out from the whimsical 'pomegranate" window sashes. And the former rodent-infested garage is now a newly renovated 'Casita', complete with twenties-era mahogany windows, stained glass, and cedar floors from a local architectural salvage store. Its original raftered ceilings have been newly stained with an emerald green – the perfect compliment to the freshly painted walls which included Dunn Edwards 'Tapering Light', a perfect color for today's more neutral palette.

| | |
| --- | --- |
| DE5090 Pomegranate | DE5497 Tapering Light |
Citrus infused ocean breezes and wide tree lined streets of soaring pines and carefree palms surround this genteel neighborhood. The mailman still makes his daily deliveries on foot, and smiling golden retrievers stride gallantly alongside their mistress's baby strollers, seemingly aloof to the new wave of changes that are currently taking place within this lovely seaside town. While some of the most coveted ocean view cottages are surrendering to the mighty cranes of the developer's swift sword, other residential owners like Faith Paulus are attempting to 'beat the clock' in order to preserve the historical homes of one of the last southern California beachside communities.

A gleaming bronze plaque that was presented by the Historical Society of Oceanside now greets each of the weary guests with the words: The 1928 Lindsay Residence-- its entrenched message forever forming an honorable tribute to just one of the respectable Oceanside families that walked this changing neighborhood at one time in history.

In order to respond to her growing list of appreciative vacation rental clientele, Faith is busy working on her next building project: 'Blue Zones' a small Eco Resort which will overlook Costa Rica's Nicoya peninsula. In the meantime, she continues to play hostess to those who are in search of the perfect Southern California beach experience.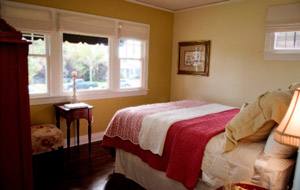 If you listen very carefully you may just hear the Spirits of the House celebrate along with its pampered guests - as Casa by the Sea shows off her loveliest new finery to entertain among the blossoming foliage of an enchanting, yet ever-changing San Diego garden.

Faith Paulus is the Author of POPCORN POPPIN ON THE APRICOT TREE

For more information, please visit: www.popcornpoppinontheapricottree.com
For more information regarding INTERIORS BY FAITH, please visit:
Photography by Aimee Westcott