Frank Lloyd Wright: A Prairie Tour
Artistic Inspiration
With the 75th anniversary of Taliesin West this year and NeoCon's recent show in Chicago, it was a perfect time to take a historical homes tour of Frank Lloyd Wright's famed Prairie of architecture in Oak Park, Illinois to gather more architectural and design inspiration.
History of the Prairie Style

The Prairie (abt 1893 -1920) transformed the architectural design landscape by showcasing low horizontal lines and open interior spaces. Frank Lloyd Wright was a leader of this transformation and helped to develop this Prairie of home.
Wright believed that the rooms in Victorian era homes were boxed-in and confining spaces, so he began designing homes with these low horizontal lines and open interior spaces. Furniture was typically built-in or specially designed to the home, and rooms were often divided by leaded glass panels. These homes were called prairie style after Wright's 1901 Ladies Home Journal article titled "A Home in a Prairie Town", and were designed to blend in with the flat, prairie landscape.
Typical features of a Prairie Style home include low-pitched roof lines, overhanging eaves, horizontal lines, central chimneys, open floor plans and clerestory windows. Earlier versions of Prairie homes were built with plaster and wood trim or horizontal board and batten, while later versions were built with concrete block.
The Tour

Located in Oak Park, Illinois, Wright's Prairie homes dot the landscape. And with a myriad of tours underway every day, one can see many of the homes built by Wright during his residency in Illinois. Here are just a few of the homes on display along with Unity Temple, one of the best examples of Wright's design principles still in existence.

1898: Frank Lloyd Wright's Home and Studio, 951 Chicago Avenue, Oak Park, Ill

In 1898 Wright added a studio to his Oak Park home where he was able to experiment with light and form, and conceived the concepts of Prairie style architecture. Walking through the business entrance to his studio, columns showcase symbolic designs. According to the tour guide book, "The book of knowledge issues from the tree of life, a symbol of natural growth. A scroll of architectural plans unrolls from it. On either side are sentry storks, perhaps symbols of wisdom and fertility."

1895, Rebuilt in 1923: Nathan G Moore House, 333 Forest Avenue, Oak Park, Ill
Though not a Prairie home, Moore's home is part of the Oak Park tour. Nathan Moore told Wright, "We don't want you giving us anything like that house you did for Winslow. I don't fancy sneaking down back streets to my morning train just to avoid being laughed at." So Wright, in need of money, agreed to build this house that he found "repugnant", a Tudor Revival. A fire destroyed the upper floor of the house and Wright built a new version in 1923, retaining its Tudor flavor.
1906: Edward R. Hills House, 313 Forest Avenue, Oak Park, Illinois
The Hills house was originally located on a lot north of where it now resides, and it was moved in 1906 to be the foundation of a house for William Gray's daughter Mary and her husband Edward Hills. Gray commissioned Wright to remodel the home and little of the original 1874 home remained after the remodel. Exterior walls were covered in stucco, the home was rotated 90 degrees so it faced north, and the windows were organized in horizontal bands. In 1977 a fire severely damaged the home and has undergone extensive restoration by Mr. and Mrs. Thomas DeCaro. Through this effort, this home is often called the "Hills-DeCaro House."
1902: Arthur Heurtley House
Designed for Arthur Heurtley, who was a banker with an interest in the arts; this home has variegated brick work with vibrant color. There is a continuous band of windows on most of the second floor, which are sheltered by deep soffits and a vast hip roofline.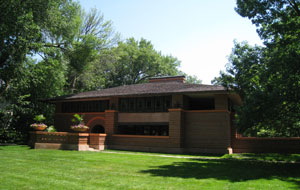 1909: Mrs. Thomas H. Gale House, 6 Elizabeth Court, Oak Park, Ill
Laura Gale, widow of realtor Thomas Gale, commissioned this home for her and her children. Her husband, Thomas Gale, had previously commissioned Wright in 1892 to build two homes on Chicago Avenue called the "Bootleg Houses". The home was built with extensive use of geometrical shapes for detail and mass, showcasing severe rectilinear geometry. It is considered one of the most unusual projects of Wright's Oak Park years and remind many of his Fallingwater project.
1906: Peter A Beachy House, 238 Forest Avenue, Oak Park, Ill
Peter Beachy commissioned Wright to remodel the former gothic cottage that resided on the property. This brick and stucco residence displays open gables at the roofline that resemble many of Wright's residences around the same era. The Beachy house is oriented at right angles to the street in order to utilize the pre-existing foundation.
1901: Frank W. Thomas House, 201 Forest Avenue, Oak Park, Ill
This home was commissioned by James C. Rogers for his daughter and her husband, Frank Wright Thomas. The Thomas house is considered Wright's first Prairie home in Oak Park and his first all stucco home in Oak Park.
1905-1908: Unity Temple - Wright's "little jewel box" 875 Lake Street, Oak Park, Ill
Unity Temple was one of Frank Lloyd Wright's favorite commissions. In 1905, after a storm destroyed the original church, Wright was asked to design the church. His plans included a cubist building made of poured concrete, which was revolutionary at the time. His idea was to have the building express the simplicity of ancient temples and suggested that the building be called a temple instead of a church. There are still services held at the temple and daily tours.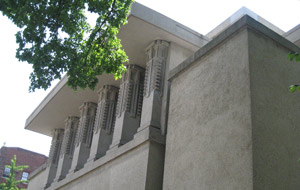 To see more of the tour and the history of Chicago, check out the Chicago Architecture Foundation, www.architecture.org for a myriad of lectures and tours dedicated to architecture and design.

All Photography by Sara McLean