"Elephant Parade" Arrives in America
Artistic Inspiration
Nestled atop the dramatic cliffs of Dana Point, Calif., a show-stopping display of 30 elephant sculptures provides instant smiles. On display throughout DanaPoint until Nov. 17, the Elephant Parade exhibition brings attention to the threatening extinction of Asian elephants.
Walking up to Mosha -- one of the Asian elephants on display – one can't help but note the prosthetic leg. Mosha stepped on an abandoned landmine and was the first baby elephant in the world fitted with a prosthesis. Her condition and accomplishments inspired the father and son team of Mike and Marc Spits to create Elephant Parade in 2006. This grassroots effort has become a global phenomenon, with celebrities, corporations and communities all taking part in this cause.

"We've created a social enterprise built on a successful model of art, business and charity -- resulting in very tangible, timely preservation efforts," commented Mike Spits. "If we don't take action now, the Asian Elephant could become extinct in just a few short decades."

After stops in London, Singapore, Milan and Amsterdam, Dana Point was selected as the first American city to showcase the exhibition. "Dana Point is delighted to be selected as the first American city to showcase Elephant Parade," said Johnny So, General Manager of the St. Regis, Monarch Beach. "The vibrant festival represents an unexpected, livelier side of conservation and humanitarianism that is very much evident throughout our coastal community."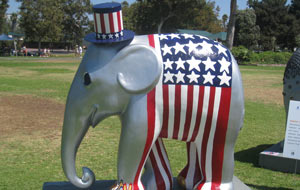 Bruce Brainerd, General Manager at The Ritz Carlton, Laguna Nigel stated, "Internationally, the prior support has been tremendous, and Dana Point provides a picture-perfect climate for the powerful cause to launch in the U.S. As an oceanfront destination dedicated to the preservation of the planet's creatures, Dana Point thinks beyond the boundaries of land and sea to raise awareness for the crusade of conservation across the globe."

Welcome to the Parade!

For more information visit http://www.mydanapoint.com/elephants
All images by Sara McLean