Design Trends
Dwell Insights: The New Face of Affluence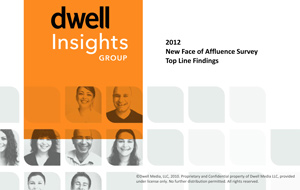 Dwell Insights Group, the independent marketing research division of Dwell, presented their latest findings on trends and the affluent buyer market at the Dwell on Design 2012 show.
The presentation, "2012 New Face of Affluence Survey" details a comprehensive overview of this trending group with large purchasing power and showcases important areas of focus for design professionals. This report provides an amazing amount of data including demographics, attitudes, buyer behaviors, brand behaviors and social media usage among others. If this is your target market, this information is critical to your business. For example, did you know that the New Affluents talk about what they like - brands, books, movies, products, etc - with 10 or more people every week?

With many thanks to the Dwell Insights Group, download the topline report.
For further information or to discuss more in-depth on how this report can influence your design business, please contact: Michele Gerus, Director, Client Services, Dwell Insights Group at Michele@dwell.com
All information and photography courtesy of and with permission of Dwell Insights Group, and independent market research division of Dwell