Dunn-Edwards Goes Hollywood!
PaintTech
Having its corporate headquarters in Los Angeles means Hollywood is right in Dunn-Edwards' backyard, so it's only fitting that "The #1 Choice of Painting Professionals*" supplies the paints for some of the biggest motion picture and television studios in the industry. I took a tour of the Universal and Warner Bros. back lots as well as the Universal Studios Tour to give you a behind the scenes look at some of the sets and backdrops you may have seen in some of your favorite movies and TV shows – and it was all painted with Dunn-Edwards paints!
Why Dunn-Edwards?

According to James Ryan of the Warner Bros. paint department, they choose Dunn-Edwards paints because, "The product is trusted, it covers well and the service is outstanding." Taking a ride through the Warner Bros. lot via a studio golf cart, I felt like I was going on a world tour. The prop streetscapes envelope you in the feel of different cities from New York to old Dixie. Some buildings look old and weathered, but they actually are only painted that way for realistic effect.
Mark Danon of the Universal Studio Operations Group also confirmed the quality of Dunn-Edwards, noting a specific case when another brand was used on an outdoor backdrop and started peeling just weeks later, sending an entire production team into panic mode. "We called Dunn-Edwards and repainted it and to this day it still looks good, they really saved the day!"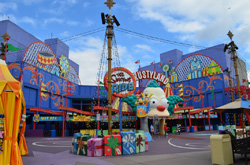 Throughout the Universal Studios tour, Dunn-Edwards Paints® is used to create a variety of settings -- from the Art Deco era leading into the "Transformers" exhibit, to the festive holiday "Grinchmas" stage, to ancient Egyptian relics. Look closely and you'll see the magic of the Universal artists who create textured surfaces with a variety of shades of paints using rag and splatter techniques along with metallics and specialty paints from Modern Masters. And of course it all has to hold to heavy wear and tear of hundreds of tourists who pass through the Studio Tour on a daily basis.

Where Else?
In addition Dunn-Edwards Paints® can be seen on Universal Citywalk and the Disney Studios.
See the Slideshows:
Where Can I See It?
Not only is Dunn-Edwards paints used on exterior sets, such as the homes of "Desperate Housewives'" Wisteria Lane, it can also be seen on the sets for shows such as "The Mentalist," "Conan," "The Ellen Degeneres Show," and "Two And A Half Men."
Desperate Housewives

The Mentalist

Two And A Half Men


You can see all of the sets up close on the studio tours.
For more on the Warner Bros. Studios Tour, visit their website.
For more on the Universal Studios Tour, visit their website.
Hooray for Hollywood!
Photos by specs+spaces®. Tour access courtesy of Warner Bros. and Universal Studios.

* The #1 Choice of Painting Professionals* - Based on an August 2009 survey of licensed painting contractors in the Los Angeles, San Diego and Phoenix areas, conducted by Options Market Research.