Design Trends
Designing a Dream: Julia Caro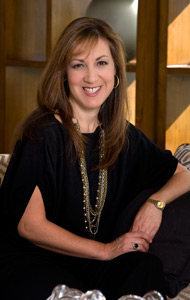 The Orange County chapter of ASID recently held their 2012 Dream Home showcase, and I had the opportunity to meet Julia Caro of Julia Caro Interior Design of Newport Beach, who had designed the nursery space for the show using Dunn-Edwards paint. With a creative use of color and design with paint, I asked Julia about her start in design and how she got involved in the showcase.
Design Background
Julia credits her love and curiosity of design to her father, who was an architect and brought her and her brother to jobsites. As her childhood curiosity grew, she designed her own bedroom in 1973 with the theme of pink and green flower power. Julia explains, "But my first job in design was in 1986 after making a cold call out of the phone book. I was so lucky to have been hired with no experience or education. I learned on my toes starting in the library, pulling materials and eventually meeting with clients."

Starting Up
Since 1998, Julia Caro Interior Design of Newport Beach has been in business. As a full service design firm specializing in residential design, she is a strong believer in the process of design and enjoys the collaboration between the homeowner and design team. "I believe my job as a designer is to interpret the homeowner's vision into reality and guide them through the myriad of design choices."
During the start-up phase of her company launch in 1998, she was also working for a group of designers as a design assistant. An unwanted project landed on her desk and what was initially thought to be a small project specifying bedding and carpet turned out to be an entire home including 13 pieces of art. Julia states, "From there, it just took off. It's the only other career I love more than riding and showing jumping horses, which I did off and on for many years. I find myself excited about life when I'm creating interiors and on the hunt for the perfect item."
Design Aesthetic
I asked Julia to describe her style and any design rules that she follows to keep on task with projects.
What is your design style? What are you known for?
My style reflects my clients' vision, but I would say I am known for tailored, clean design. I love all styles and would say that the best part of my job is that I get to explore various styles of design through each new client or project.
Do you have any design rules that you follow?
The design of your home needs to suit your lifestyle. It should reflect the personality of the people who live there and it should create a feeling. I also believe that comfort and function is very important to designing a room or home. Basic design elements and principles still reign such as proportion, scale, balance, line, color, texture, etc. But it's ok to break a few now and then just to mix things up. Oh! And buy what you love.


What does a room need as a finishing touch?
Finishing touches for a room include accessories such as artwork, rugs, lamps, collectibles, books, flowers and splashes of color to add personality. Followed by people, laughter and life!


Do you have a favorite color palette or color you work with?
I think typically I prefer warm palettes over cool, but I would never rule anything out. It all depends on the client and the project. I personally love warm grays right now. It's a great neutral that goes with most anything. I find it calming and nurturing.


Do you shy away from any color(s)?
I don't find myself shying away from any particular colors. It just depends on how the color is to be used and what the feeling you are trying to achieve might be. I always leave myself open to explore.


What can we see from you next? What projects are you working on?
I have a few projects that are just getting started after wrapping up a lovely home, one of my father's projects, where I designed two classic cottage bath suites for a couple's visiting children and grandchildren. Next up, I am doing an Island style home for return clients, a Nautical style child's room, a warm Italian dining room with a kitchen in the next phase and an Equestrian residence for a dear friend.



ASID Dream Home
Julia became involved in the 2012 ASID Dream Home project by applying to design a room at the Dream Home. As an Allied Member of ASID, she is actively involved within the organization. She was selected to design the nursery. "After participating in the 2009 Urban Living Tour, where I designed a powder bath and home office, I knew the experience would be positive both professionally and personally. It's great exposure for my business and it supports a wonderful cause, MS, and I love being part of the design house family." The ASID Dream Home also actively addressed the relevant issues of Universal Design MultiGenerational Living.
Julia's nursery was designed to be gender-neutral with bright, happy colors and simple, clean lines. "I used paint as an effective and inexpensive way to add detail and graphics to the crib wall. And, I planned for the ADA requirements of the design house by providing enough room for a wheelchair to turn around, easily approach furniture and exit the room with out issue."
Inspiration for the design of the nursery came from an exotic paisley and animal print fabric in bright hues of green, magenta, aqua, yellow, brown and gray. Giraffes and lions from the print were pulled as inspiration for the stuffed toys in the room and a bright print wall-mounted giraffe head with a chandelier Lucite necklace. Sophisticated furniture partnered with gallery art from local artists and reclaimed wood flooring from the Santa Fe Railroad Building in Missouri all contributed to create this enchanted world.


Using the high-low theory of design by mixing high-end designer furnishings such as the crib with inexpensive materials such as the wool rug, sustainable toys and accessories and bookshelves from local retailers, the room fully addresses the needs of the Dream Home project. "The nursery is a fun, hip room with luxury appointments and fully accessible to best meet this family's needs and concerns."

Dunn-Edwards Perfect Palette® Colors Use in the Nursery
| | | |
| --- | --- | --- |
| DE6228 Play on Gray | DE5508 Palm Leaf | DE5013 Deep Magenta |
To contact Julia, www.juliacarointdesign.com
All photography courtesy of and with permissions of Julia Caro