Community in Action: Beautify Lincoln Boulevard
Artistic Inspiration
Artist Evan Meyer is proof that less talk and more work can change a community.

Tired of hearing locals complain about the depressing state of Santa Monica's Lincoln Boulevard, Meyers -- who has a background in industrial design and serves as board member of the Ocean Park Neighborhood Association – decided to take matters into his own hands and start a grassroots beautification effort, aptly named "Beautify Lincoln."

"This was a great way to do it yourself and get others involved," he states. The end result is an eclectic collection of murals across 20 storefronts: a funky geometric piece on the side of The Printing Palace, a cheery yellow sun on Ameci Pizza/Pasta and winsome paint drips down the front of Trip Bar and Entertainment.
Meyer believes in letting the artist take the lead. He serves as the project manager, lends a hand painting and furnishes supplies. But the subject matter of each mural is left up to the individual artist, each of whom came to Beautify Lincoln because they were friends, friends of friends or connected via the Facebook community and website.


He cites the philosophies of Burning Man, a place where creative expression and community are wildly celebrated, as inspiration. And walking down the boulevard it's hard not to see the influence of other neighborhood mural projects like Tony Goldman's Wynwood Walls in Miami and the murals launched by the Chicano Arts Mural Movement in San Francisco's Mission District in the 1970s.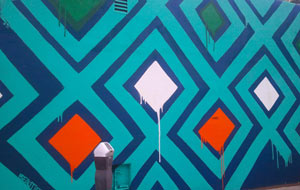 There have been numerous studies done on how public art positively affects communities (the non-profit Americans for the Arts has an informative, easy-to-read paper on the subject here). Murals, sculptures and landscaping are all ways for a neighborhood to forge a collective identity. Art also stimulates learning, instills a sense of pride and invites business. But the proof lies in taking a walk through an area that's been affected. There's a stark contrast between how welcoming and vibrant the sections of Lincoln Boulevard that have been painted are compared to the areas that have yet to be touched up.


That said, what's most surprising about this particular project is how easy it was to execute. There were no legal hoops to jump through, no red tape, just volunteers who approached business owners along the boulevard to see if they'd be interested in participating. The only stipulations are that the murals should be positive and can't contain any cultural, political or religious references.


"It doesn't cost much to just repaint a neighbors wall," Meyer states. Those in the neighborhood have taken this to heart, extending the community effort beyond art to include smaller beautification efforts like picking up trash, replacing dumpsters and mowing lawns. He's proud of the fact that beautify Lincoln has motivated others to do things on their own.


"I'd like people to realize that doing is more important than talking," he says. In fact, Meyer reports that, via the Beautify Lincoln network, a mural was created farther down in Venice. "It shows that as a community we can build something."


For more information visit: BeautifyLincoln.com or http://www.facebook.com/groups/115906145232991/
All images by Megan Mostyn-Brown