Becoming Los Angeles at the Natural History Museum
Artistic Inspiration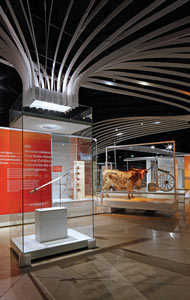 Did you know that the flood of 1825 changed the course of the Los Angeles River from west to east? Or that during the turn of the century, local civic leaders kept labor costs low by fighting unionization?
These and many other interesting tidbits are covered in the Natural History Museum's new permanent exhibit, Becoming Los Angeles. It's a whirlwind trip through the city's history, starting with its founding in 1781; and stopping off in the Spanish Mission Era, the Mexican Ranch Era, the Early American Period, the Great Depression and World War II, before concluding in the present day.
It's an enormous amount of ground to cover; and the museum succeeds in making it easy to digest by mixing in well-placed artifacts, dioramas and photos to accompany the text. They've also eschewed laying out the exhibit on a straight path, for one that leads the visitor from start to finish, while also giving them nooks and crannies to discover on their own. Step around the side of the giant grizzly bear that greets you at the beginning of the Mexican Ranch era, to find a tiny diorama illustrating how vaqueros (cowboys) in the 1800s roped bears fight bulls as entertainment for special occasions.
Interior designers may gravitate towards the earlier parts of the exhibit, specifically the Spanish Mission and Mexican eras. There you'll find Edwin Deakin's paintings of Southern California missions, a case of religious relics from Spain and beautifully crafted artifacts from pueblo living, including a woman's tortoise shell comb and a traditional sewing set.
Architects will be more delighted by later points of the exhibit, specifically the Early American period and the Great Depression. These two sections focus heavily on the city's expansion with information on the railway, the Aqueduct and the establishment of the city of Beverly Hills.
The highlight of the whole exhibit, though, is a diorama of downtown accompanied by touch screens that give fun facts about the area's history. Learn about the rise and fall of the historic Broadway theater district or get the scoop on why the Angel's Flight railway was disassembled in 1969 and reassembled a half a block away in 1996.
The last third of the Becoming Los Angeles is chock-full of timelines illustrating the city in the 20th century. Though informative, this segment of the exhibit feels a little bit like an afterthought or an epilogue to the first three-quarters. This could be due to the fact that it lacks the same amount of information on how the infrastructure and the landscape of the city changed. Instead it relies on illustrating cultural and industrial changes like the establishment of the aviation industry, the Hollywood boom, local inventions (like the Fender guitar and the Hang Ten skateboard) and life-changing historical moments like the Watt's riots; before finally leaving visitors to ponder where L.A. is headed next.
For more information on Becoming Los Angeles and other exhibits at the natural History Museum visit www.nhm.org