Beauty in Motion: 21st Annual Film Costume Design Exhibit
Artistic Inspiration
The glamour and of the Oscars is on display at the Los Angeles Fashion Institute of Design and Merchandising (FIDM) during this annual, one-of-a-kind exhibition. Paying homage to the costume designer creations of motion pictures nominated for an Oscar, the museum exhibit celebrates these fashions as more than 100 costumes from over 20 outstanding 2012 films.
Colorful and vibrant, each costume provides a rich look into the world of history, fantasy, and contemporary design of fashion and textiles. And with interior design playing a supporting role to each costume as an additional character within the movie scenes, style comes to life in each of the represented movies. Here are the five movies nominated for an award for costume design with the Oscar being awarded on Feb.24, 2013 to Jacqueline Durran for Anna Karenina:

Anna Karenina by Costume Designer Jacqueline Durran


Photo Right:(L to R): Costumes: Kelly Macdonald as Dolly, Keira Knightley as Anna Karenina, Aaron Taylor-Johnson as Vronsky
Les Misérables by Costume Designer Paco Delgado


(L to R): Costumes: Eddie Redmayne as Marius, Samantha Barks as Éponine, Eddie Redmayne as Marius, Amanda Seyfried as Cosette, Hugh Jackman as Jean Valjean, Anne Hathaway as Fantine

Lincoln by Costume Designer Joanna Johnston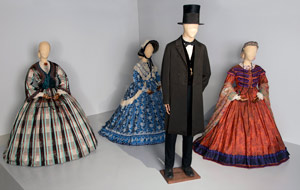 (L to R): Costumes: Julie White as Elizabeth Blair Lee, Sally Field as Mary Todd Lincoln, Daniel Day-Lewis as Abraham Lincoln, Sally Field as Mary Todd Lincoln
Mirror Mirror by Costume Designer Eiko Ishioka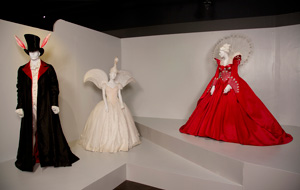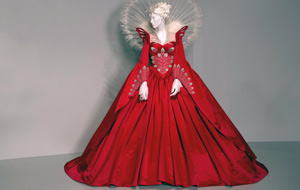 Photo Left: (L to R): Costumes: Armie Hammer as Prince Alcott, Lily Collins as Snow White, Julia Roberts as The Queen
Snow White and the Huntsman by Costume Designer Colleen Atwood


Photo Right: (L to R): Costumes: Charlize Theron as Ravenna, Charlize Theron as Ravenna, Charlize Theron as Ravenna, Kristen Stewart as Snow White, Charlize Theron as Ravenna, Chris Hemsworth as The Huntsman
And, as is tradition at the FIDM museum exhibition, the costumes from the prior year's Oscar winner for Best Costume Design are displayed - so the costumes from The Artist by Costume Designer Mark Bridges are also shown. On display through April 27, 2013, admission is free. What a great way to get inspired for your own designs!
To visit the FIDM Museum & Galleries On The Park, 1st level, FIDM/ Fashion Institute of Design & Merchandising, 919 S. Grand Ave., Los Angeles, CA 90015 (corner of Grand Avenue & 9th Street).
To find out more about the exhibition and FIDM,visit http://www.fidm.edu
All photography courtesy and permission of the FIDM Museum & Galleries