Artistic Inspiration
An Artistic Collaboration with Susan Bacchi
At the recent Decorative Plumbing and Hardware Association (DPHA) conference, held October 14-16 in San Jose, CA; a collaboration between ThermaSol, artist Susan Marie Bacchi and Napoleon at Home Interior Design stole the show.
The booth, titled "Letting off Steam", showcased the opportunity for enjoying a day at the spa. Designed as a serene oasis, the spa-like space showcased neutral colors, tranquil lighting and an underwater sea life theme complete with custom artwork using Dunn-Edwards colors by artist Susan Bacchi. the colors used are Bison Beige(DEC750), Birchwood (DEC752), Weathered Brown (DEC756), Haze Blue (DE6311) and Gray Pearl (DEC795). "We wanted attendees to feel as if they had been transported to their favorite day spa, where they could site back and enjoy a refreshing beverage amidst the soothing lights, colors and music of ThermaSol's Serenity Light and Music System," said Bacchi.
This unique interior design opportunity arose from the brainchild of DRS & Associates, a PR firm in Studio City, CA. I interviewed Shelly Levin, PR Associate for DRS & Associates, to find out more about how this project came about and if there will be other opportunities in the future for other interior designer/artist/product collaborations.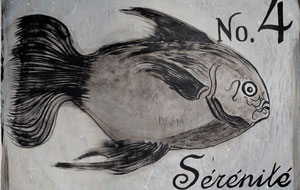 La Mer, Susan Bacchi Serenite, Susan Bacchi


Bison Beige (DEC750)

Birchwood (DEC752)

Weathered Brown (DEC756)

Haze Blue (DE6311)

Gray Pearl (DEC795)
My interview withShelly Levin, DRS & Associates
PR Firm for Susan Bacchi, Artist and Designer

Describe DRS & Associates:
"DRS and Associates is a full service luxury brand marketing and public relations agency that specializes in providing creative services, branding, advertising, and communication programs to the architectural, interior design and building products industries – utilizing new media and traditional practices. Our firm has a strong outreach to residential, hospitality, resorts/spas and commercial markets. In this case, we were tasked with creating a unique trade show booth concept for our client, ThermaSol, the leading residential steam shower manufacturer. For over 50 years, ThermaSol has been pioneering steam shower technology and accessories and has been on the forefront of the industry.

Our challenge was to work within a 10'x10' booth space and develop a theme that would distinguish ThermaSol from others – and not in the typical "product focused" exhibit. Our team determined that we should create a space that conveyed how it felt to have a spa-like environment at home. Making a space so small come alive amidst a hectic trade show was tricky. We had to take into consideration the importance of branding ThermaSol and creating this spa-like experience all while making sure our booth stood out from the crowd.

The solution was to create a totally different space, one that wasn't cluttered with marketing materials and product samples. We decided to create the ThermaSol "Letting Off Steam" Lounge experience and let the product speak for itself. Susan's paintings were a key element of this design. The paintings were rather large and enclosed the booth creating a warm and inviting space that provided visitors with a mini-oasis as they walked through the busy show. "

Do you work with clients mainly in the California region or does DRS have a global reach?
"DRS does have a global reach as we work with clients nationwide and throughout Europe. We have clients based out all over the U.S. as well as Italy, France, Spain, and Switzerland."

Had you collaborated with designers and product manufacturers before working with Susan and ThermoSol? If so, who and what was the result?
"Several of our other clients have partnered with designers to create new lines for their collections. In ThermaSol's case, it was the first time they had collaborated with a professional artist. Since steam showers provide an experience as well as a product, it was important we had something tangible to show booth visitors.

Susan's paintings conveyed ThermaSol's message clearly and gave attendees a chance to experience the luxury of a residential steam shower. Susan's paintings had an underwater haven theme that transported attendees into a beautiful, soothing place where they could unwind and "let off some steam."
Why does DRS focus on architectural and design firms? Do the founders of the company have design backgrounds?
"The founder of DRS, David Schlocker, has a background as a kitchen and bath designer, general contractor, and was Vice President of Marketing for one of the nation's largest wholesale distributors (with retail showrooms) in North America . Through his experience working with product manufacturers and merchandisers (also once a showroom owner himself), he determined that there was a missing niche for marketing professionals.

His passion for architectural products and high-design has transitioned into a successful business. We are proud to say we work with some of the finest luxury product manufacturers in the industry today."
Have you worked with Susan before? If so, what other ideas transpired from this collaboration?
"This was our first experience working with Susan and we are so happy to have partnered with her. In fact, the idea of bringing in an artist/designer to help us tell ThermaSol's story was such a success we are now considering it for our other clients. "
Will there be future work opportunities with Susan and Napoleon at Home?
"As part of their agreement, ThermaSol will be providing Susan with a steam shower to install in her next design project. ThermaSol's relationship with her will continue, as we look forward to seeing the finished project with the steam shower installed. It not only helps us show but tell the ThermaSol story and experience."
Imagery courtesy Susan Bacchi

To find out more about each company:
Napoleon at Home Interior Design: www.napoleonathome.com
The Studio of Susan Marie Bacchi: www.susanbacchi.com
DRS and Associates: www.drsandassociates.com
ThermaSol: www.thermasol.com