Adobes, Artwork and a Neighborhood Fall Festival
Artistic Inspiration
Just over the Santa Monica Mountains, nestled in between Thousand Oaks and Calabasas is the Los Angeles suburb of Agoura Hills. The area has a rich historical past, most notably that of the Reyes Adobe, which they celebrate every October with a local festival.
The History of Reyes Adobe
The Reyes home is constructed in typical adobe fashion -- from a wooden frame, bricks crafted from compressed sand, clay and straw, a tile roof and a floor of packed earth. This method of construction is meant to keep the home from getting too hot or too cold.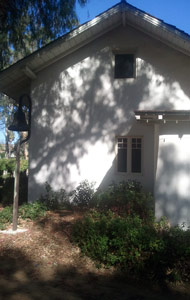 While the structure looks unassuming, its rich history proves otherwise. In 1845 widow Maria Antonio Machado purchased Rancho Las Virgenes. Five years later her son, Jose Jacinto Reyes, built the adobe. Since the adobe was one of the last watering holes between Santa Barbara and Los Angeles, the family often accommodated travelers on El Camino Real. Legend has it that a bandit was murdered in the kitchen after he attacked one of the Reyes women – fueling rumors today that the house is haunted.
The adobe later changed owners several times over the first half of the 20th century, before being sold to a developer in 1978, on the promise that it would remain intact regardless of how the neighborhood around it changed. It did and after years of attempts to restore the home, the city of Agoura Hills proudly broke ground on renovation in 2003 and opened to the public in 2004. Visitors can tour the site, which contains furniture and artifacts that reflect different periods in California's history.

The Festival
From October 4-6, Agoura Hills residents and visitors are treated to live music, artwork, beer and wine tastings, book signings and even a paranormal investigation (perfect for Halloween!) all held at the Reyes Adobe Historical Site. It's not only a celebration of fall, but of the area's pride in their history and local artisans.

One such (former) local talent, Crystal Michaelson, was the featured artist at this year's celebration. Her artwork - mixed media paintings that incorporate found objects like twigs and ticket stubs – is striking, raw and intricate. Calming neutrals in soft shapes provide the backdrop for bright splashes of color and zig-zag lines. The pieces have an urgency about them that makes them feel fresh as if they may leap off the page.
It's no surprise then, that Michaelson considers herself an intuitive painter with a love of composition and design. She takes great inspiration from the world around her, looking to the lines of local buildings and the street layouts she encounters on her morning "memory walks" to lead her to her paintings.
Though two of her pieces on display were inspired by the local landscape (one of the adobe and another of a building in the park), Michaelson has seen her aesthetic change since moving to Venice. "The hills, the mountains – my work was different it was a little more circular," she says, in reference to her days in Agoura Hills. Her color palette has also seen a transformation. "It was a little more vibrant there (Agoura) and little more grayed down here (Venice). It was a little warmer there and a little cooler here."
Her willingness to letting her surroundings dictate the course of her artwork is inspiring. It's not only a testament to her openness but an acknowledgement of how much rich landscape and architecture can be found in California.
For more information on Reyes Adobe Days, visit www.reyesadobedays.org

For more information on Crystal Michaelson and her artwork, visit www.crystalmichaelson.com
Images by Megan Mostyn-Brown and Reyes Adobe Days