2012 Fall Color + Design
Design Trends
Fall, a time of magic, the witching hour, fall leaves, and gorgeous sunsets, designers can feel inspired by the color all around us. With fall in full swing, we take a look at a few of the color and design trends in the marketplace.
From the vibrant color combinations of cobalt, tangerine and fuchsia to the deep autumnal coloring of magenta, inky green, and deep brown, the fall color trend palette offers so much opportunity for creativity in design.
Visiting trade shows and window displays provides so much creative eye candy. We also are seeing several design trends for retail this fall - nordic/snow lodge, glamorous settings and sculpted back drops to name a few. Here is a breakdown of the trends.
Colors On Trend
| | | |
| --- | --- | --- |
| DE6021 Outer Boundary | DE5376 Chipmunk | DE5062 Rosy Cheeks |
| DEA111 Burning Tomato | DEA132 Ocean Oasis | DE5479 Hay Day |
| DE5867 Blue Chip | DE6355 Tarnished Silver | DE5976 Veiled Violet |
| DE6115 Practical Tan | DEA149 Scarlet Apple | DE6233 Limestone |
Plum to Purple: In Full Swing
From fashion to décor, we're seeing all shades of this color evident throughout. Purple has been trending for several seasons and this season is no exception. Try Veiled Violet, a grayed-purple that feels soft and meditative.


Vibrant Color to Continue its Strength
Pattern and intense color continue to create bold swatches of style and whether its one color or multiple hues, interest continues to provide drama.

Pink and Fuchsia: Stimulating the Senses
Ever happy and chic, pops of pink and fuchsia pervade fashion and interiors. Rosy Cheeks add a bit of heat to the color palettes when combined with Burning Tomato.
Cobalt: Brilliant and Beautiful
As blues continue to shine, cobalt is the latest shade of blue to give a boost to the winter doldrums. Try Blue Chip paired with any of the colors in the palette for a pop of glamour.


Browns: Sumptuous Chocolate
As this earthy neutral gains ground again after playing in the background for several seasons, we see a punch of chocolate in fashion and interiors. Outer Boundary is a sophisticated, deep earthy color as an alternative to black.
Greens: Oxidized and Olive
Greens continue to morph and regain ground with oxidized shades as well as olive taking hold. Also seen in fashion are hints of emerald green, playing as a precious mineral cousin to cobalt. Chartreuse, a bridge color between yellow and green, softens the season's color palette.
Grays: Everlasting Classic
Grays are present from warm to cool tones, and play with one another to continue this trend. Titanium is a cool gray pairs well with any color.


Design Trends on Scene
Nordic Realms
Lodge style interiors and fashion windows filled with leaves, sticks and logs suggest the outdoors lifestyle is still trending. Included for the fall must-have house wares are mushrooms, owls and birch branches.


Glam it Up
Luxurious detailing mixes with vintage finds create a colorfully artistic take on the glamorous life.
Sculpted Geometry
Visual displays are showcasing a variety of shapes, utilizing math concepts in creative new functions. From octagons, pleats, cubes and circles, all shapes are sure to please.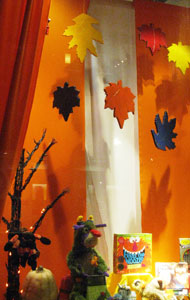 All photography by Sara McLean and courtesy of Bethany Nauert Photography